Software System
Delta's DIAView SCADA (Supervisory Control And Data Acquisition) system is an industrial automation management system for providing real-time system control, gathering information and carrying out analysis for remote monitoring and control, implementing system management and production line visualization, and increasing overall plant efficiency and capacity. The DIAView SCADA system can be widely applied in industries such as machinery, metallurgy, water treatment, HVAC, packaging, central heating control, environmental monitoring, textiles, energy management, transportation, smart buildings and others.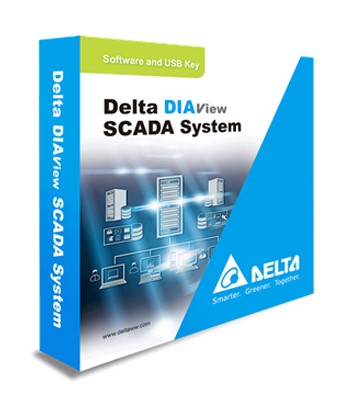 Features
Stable industrial communication, seamless integration with Delta PLC & other products

WPF technology for intuitive interface

Flexible, versatile variables and parameters

Friendly graphical demonstration

Strong and efficient alarm system

Easy-to-learn VBScript language

Reliable user authority management

I/O points: 64, 128, 256, 512, 1000, 1500, 3000 and unlimited

Licensing: via USB hardware key to enable all authorizations
Applications
HVAC, water treatment, central heating, electronics manufacturing
DIAEnergie Industrial Energy Management System
Delta's DIAEnergie industrial energy management system allows companies to visualize and improve their electric and power systems, especially high energy consumption equipment, through manual intervention and automation control, using data acquisition, systematic analysis, troubleshooting and energy saving diagnosis. The system helps monitor and analyze energy consumption in real time, calculate energy consumption and load characteristics, optimize equipment performance, enhance production processes and maximize energy efficiency. The DIAEnergie system offers a base for developing an energy management strategy and creating an effective energy control framework to improve an enterprise's energy efficiency and reduce its overall operating costs.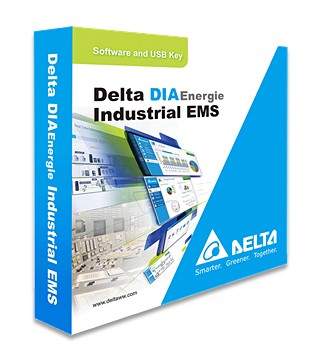 Features
User-defined energy dashboard

Visualized, remote monitoring & analysis

Historical reports, statistical analysis and alarm management for various applications

B/S structure based on the network for real-time remote monitoring and system management

User authority management for different levels of management

Web Based Industrial energy management system

Energy consumption analysis from various perspectives(by regions, power circuits and time periods)
Applications
Energy saving, environment control, power monitoring and analysis, facility management control
DIAStudio Smart Machine Suite
Delta's DIAStudio Smart Machine Suite is an integrated engineering software package designed to simplify and reduce the time required for the setup process in machinery systems. Tasks such as product selection (Delta's HMIs, PLCs, servo drives and motors, AC motor drives), PLC programming, quantitative parameter setting, machine tuning and HMI integration can all be executed smoothly on one platform with DIAStudio's key tools:
- DIASelector: Provides a PC (Windows) and APP-based (Android) mechanism for quick product selection in the machine system.
- DIADesigner: Users can export the selected product data to the globally-adopted CAD software EPLAN for project planning and configuration, and import the configured data to DIADesigner for programming, parameter settings, tuning and project management.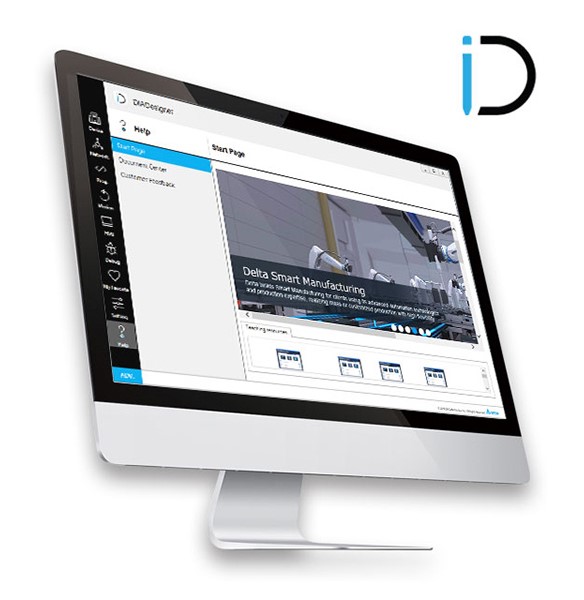 Features
DIASelector - Quick product selection
Web (Windows) and mobile app (Android) versions available

Smart product selection wizard for quick model selection by specs., patterns and key words

Product catalog download

Data sharing with EPLAN

Cloud data sharing
DIADesigner - Integrated engineering platform
Manages multiple products in one project:
- PLCs / AC servo drives / AC motor drives
Project management interfaces:
- Basic View for beginners
- Advantage View for advanced users
Programming:
- Compliant with IEC 61131-3 standards
- LD, ST, SFC
Intuitive network and hardware configuration
Commission: Oscilloscope / Parameter / Servo Tuning

DIAScreen - Visualized editor
Tag sharing between projects on DIADesigner
Integrates HMI and text panel software functions and operation interfaces for a consistent user experience
See How Delta DIAStudio Smart Machine Suite Saving Your Time to Integrate Multiple Machines
Applications
Automated equipment: electronics manufacturing, labeling, food packaging, and textile machines
Specifications