With the continuous development of Industry 4.0 and IIoT technologies, manufacturers require comprehensive, efficient and smart management solutions to enhance their equipment utilization rate and productivity in factories.
Delta's DIAView SCADA System is an industrial data visualization software designed for smart management of factory equipment and production processes. The system employs automated management functions including real-time system monitoring, data acquisition and analysis to assist users in managing the whole plant. The user-friendly interface editing functions help to construct a customized management interface for production visualization, remote monitoring, system management, and factory digitalization, increasing overall factory production efficiency.
The DIAView features Stand-alone, Client/Server (C/S) and Web Browser/Server (B/S) versions for different management applications. It is compatible with Delta's PLC, sensors, meters and other industrial automation products, and provides abundant graphics, alarm management, user-defined reports and charts for an intuitive and easy-to-navigate user interface. It helps customers in a variety of industries to establish a complete factory visualization and management solution with reliable references for optimal production.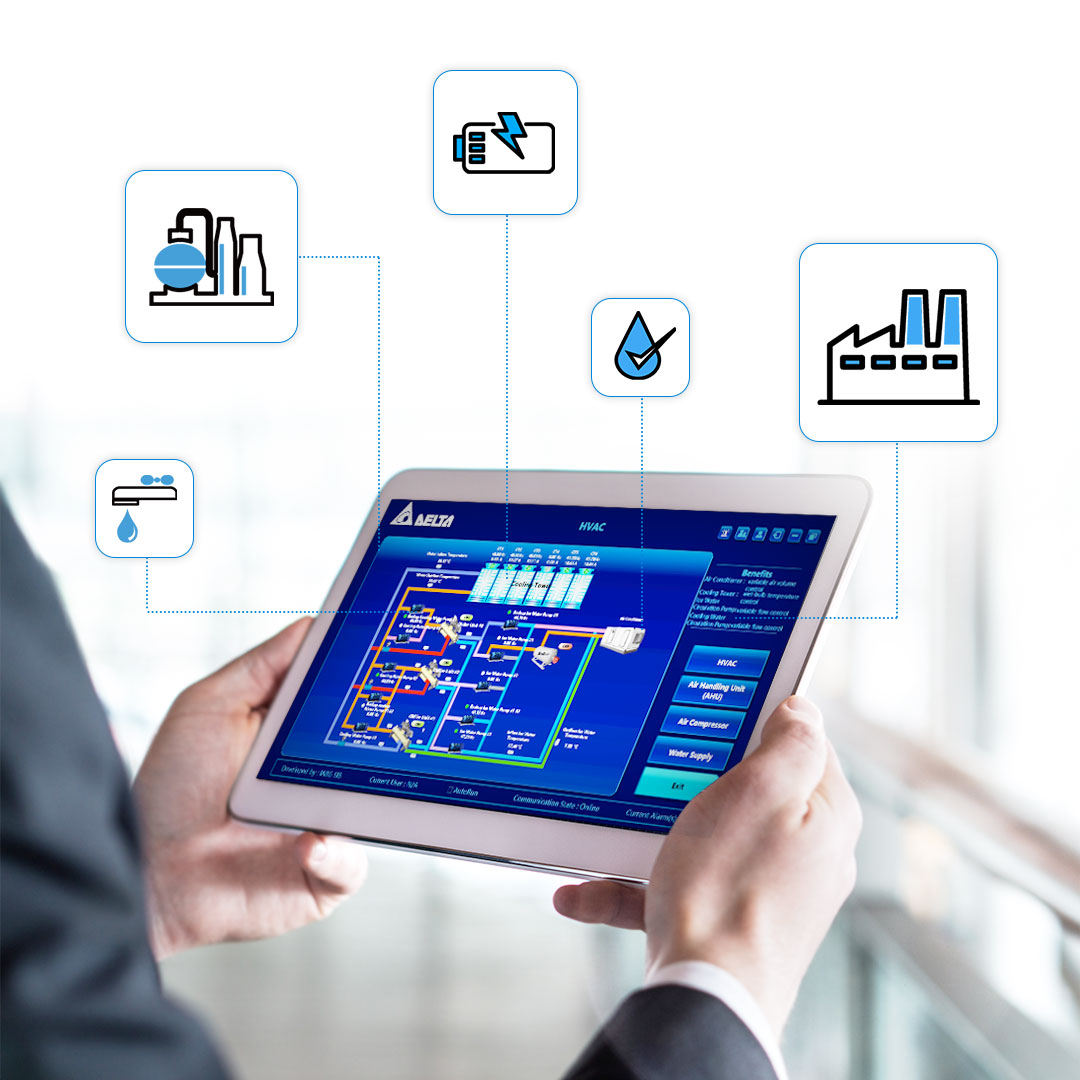 Stand-alone
► Integrated with a host controller for data acquisition from each machine and real-time monitoring
► Manages advanced equipment if integrated with an industrial touch Panel PC
Client / Server (C/S)
► Collects data from various equipment for analysis
► Provides real-time monitoring to users via TCP / IP protocol
Web Browser / Server (B/S)
► Collects and processes data from various equipment for analysis and direct display with
built-in web server (no need to install IIS)
► SVG images compatible with mainstream browsers such as IE, Chrome, Safari, Firefox and more; no need for plugins
► Supports hybrid access networks for multi-platform monitoring and data visualization
Communication Protocols
► More than 20 drivers support mainstream controllers (PLCs)
Smart Report Wizard
Intuitive operation interface, multiple data sources, graphs and charts preview and more functions are provided for easy operation. It only takes four steps for users to complete the configuration, effectively saving time for report generation.
Alarm Management Tools
Displays alarm records, related variables, trigger / response / recovery time, record formats, alarm types and levels and more, as well as to filter, inquire (by groups), display, archive, print alarm data, and export as Excel files.
Data Display
Various data archives and display for real-time management, including:
Real-time / historical data statistics, analysis, and display: XY curves, pie charts (2D / 3D), bar charts and more
History Logs and Database
History logs include variables and log groups, and the database facilitates data browsing, inquiry making and editing, and allows users to select different sources of data for cross-check.
Basic operations: to insert / modify / inquiry data, and to create / delete tables
Recipe Management
Recipes are sets of parameter settings indicating the proportion of different materials for production.
Users are able to define and manage recipes for different products and production processes.
VBScript
Supports VBScript, a power script editor with abundant coding objects and commands, to customize functions as follows:
User Authority Management
The standard authority management provides access security settings and section management. It effectively enhances system security by data categorization and isolation, operation, and responsibility levels while reducing human errors.
Multiple Languages
Multi-language interface for users in different countries and regions around the world and avoids repetitive program development.
Data Dictionary
The data dictionary is a collection of variables of a project, and variables are grouped for easy management. The interchange of all sorts of data and variables presents the production status of a project and enables efficient control and management.
Video Monitoring
Video preview, recording, screenshot, and playback for multiple users
User authority management, remote equipment configuration, and camera setting adjustment