Bangkok, Thailand, June 21-24, 2023- Delta Electronics (Thailand) PCL. showcased its portfolio of industrial automation products and solutions for low carbon green production at the Manufacturing Expo 2023 at BITEC, Bangkok. This year, Delta Thailand highlighted its smart manufacturing solutions with the new Delta Group company Universal Instruments, a global leader in precision automation solutions for smart manufacturing.
Speaking at the event, Mr. Alan Chou, Delta Regional Director of Industrial Automation, said, "Manufacturers in Southeast Asia today must reduce the carbon footprint in their factory operations, production line and even products to meet the standards of global customers. Delta is an expert in energy management, and this is why we can be the perfect partner for factory operators who want to save energy and cost while boosting productivity with facility and process automation."
This year, Delta's industrial automation business in Southeast Asia is strengthening its partnership with Delta company Universal Instruments, a global leader in precision automation solutions for smart manufacturing. Universal Instruments boasts a lineage of over 100 years and provides precision automation solutions to world-leading customers in a broad range of fields, including automotive, computing, medical, industrial, as well as printed circuit board surface mount placement and odd-form insertion. The partnership will bring world-class automation to local customers in the region.
The Delta Booth number 8M11 in Hall EH98 featured the following product and solution demonstrations for production line applications:
Automated Pick and Place with Industrial Robots moving objects on a conveyer belt
Electric Servo Press for bending and other fabrication applications
DI-S20 Series New Generation Smart Insertion Machine with auto-calibration and quick insertion
Visitors to the Delta Booth could explore the following solution panels:
Smart Manufacturing Solutions for Factory Automation
Information software for: Manufacturing Execution System (MES), Energy/Production Visualization and Management
Control devices: Programmable Logic Controller (PLC), Human Machine Interface (HMI), Robot Controller,
Field devices: AC Servo Drive, Power Meter, SCARA Robot, Smart Sensor, Machine Vision System and Standard Compact Drive
Green Solutions for Carbon Neutrality
VTScada data visualization, DIAEnergie industrial energy management, carbon management app
Industrial Ethernet Switches and Industrial 4G Router for communication
Energy efficiency solution with PLC, HMI and Drives for water treatment, HVAC and air compressor systems in factories
Power quality solution with power meter, active power filter and static VAR generator
Renewable energy systems for solar and wind power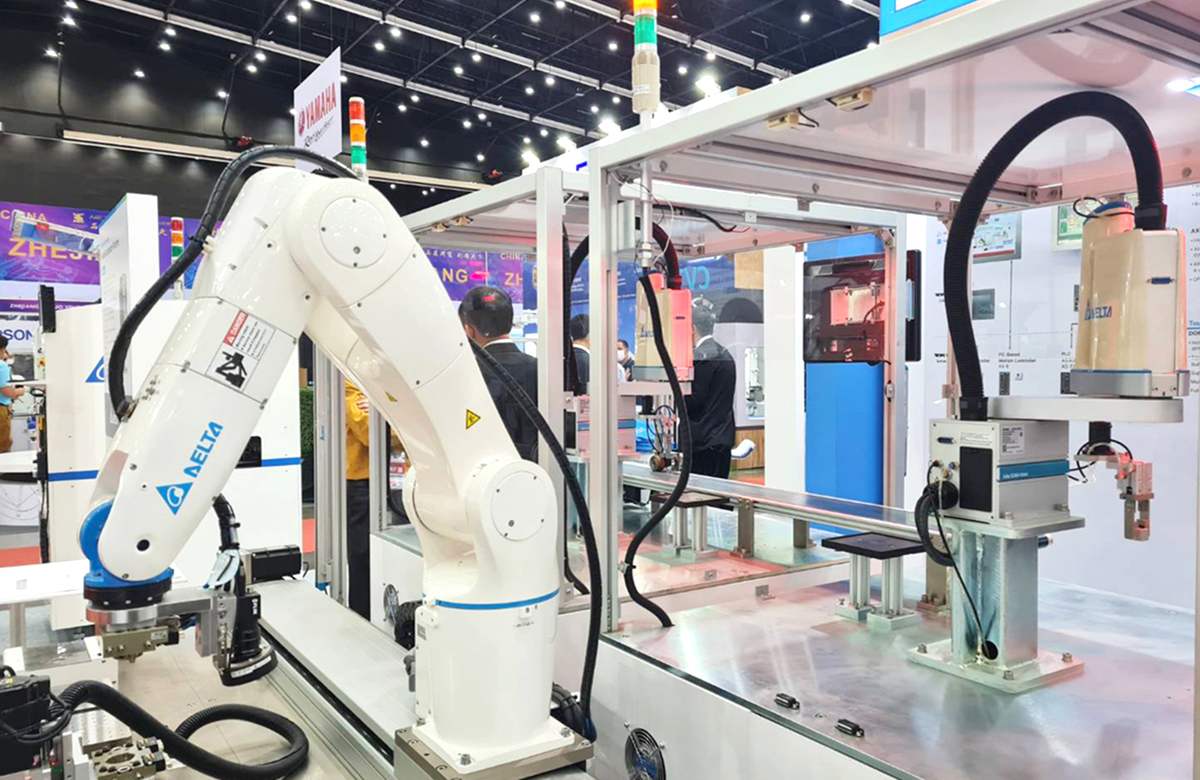 Other highlighted Delta Industrial Automation Solutions included:
Industrial Internet of Things (IIoT) Solution integrating sensors with devices and drives
Delta HMI and PLC products for automation control
Delta Robots and Smart Screwdriver Solution for assembly and process applications
Delta Variable Frequency Drive (VFD) Solution for motion
Industrial Power Supplies including DIN-rail and panel mount types
As a recognized sustainability leader and model for green factory implementation in Thailand, Delta relentlessly pursues world-class industry standards and a RE100 target of 100% renewable electricity in global operations by 2030. This commitment helps it deliver best-in-class energy efficiency solutions for manufacturers in Thailand and Southeast Asia.