Printed circuit boards (PCBs) have been widely used in a variety of industries and must be applied with a conformal coating that offers protection such as moisture-proofing, anti-corrosion, insulation and dustproofing for diverse applications. High-quality dispensing enhances the reliability and durability of the PCBs while poor-quality dispensing may result in cracks in the coating or affect PCB functions and applications.
Recently, Delta provided a PCB conformal coating dispensing and inspection solution for an electronic automotive component manufacturer in Tianjin, China. The solution integrates Delta's motion controller and machine vision system to precisely control the amount of conformal coating and the dispensing positions and it can implement using automated optical inspection (AOI) with direct UV ring light. It shows fast results, enables high precision of the dispensing effect, and integrates the necessary processes, including dispensing coatings, bake-out, and inspection for high manufacturing efficiency.
The solution adopts Delta's Multi-axis Motion Controller DVP-50MC Series to load a PCB with a fixture. The conveyor delivers the PCB to the conformal coating dispensing station, and the AC Servo System ASDA-A2 Series drives the nozzle to dispense coatings onto the top and bottom of the PCB. After the bake-out process, the machine vision system inspects both sides of the PCB and may trigger alarms if there is any improper or insufficient dispensing.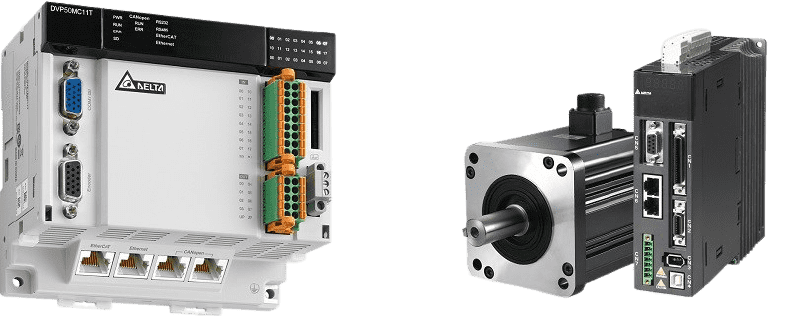 The solution features the following advantages:
• Highly efficient and precise positioning for dispensing coatings
Conformal coatings can be flawlessly applied onto PCBs through precise positioning with the machine vision system, and it can quickly identify the dispensing and non-dispensing areas. The Multi-axis Motion Controller DVP-50MC Series conducts 3-axis gantry operations to dispense coatings at a high speed with adequate amount, and this prevents over- or intermittent dispensing.
• Easy operation for flexible changeover
The electronic automotive component manufacturer can control the processes of PCB coating dispensing, baking and inspecting directly on the Human Machine Interface DOP-100 Series. With the user-friendly and editable interface, the customer can save time developing different interfaces for various operations and implement fast changeover by only exchanging the positioning modules and photomask areas for dispensing.
• Seamless integration with one-stop-shop service
The key components involved in the solution are designed and manufactured by Delta for seamless integration and operation guarantee. This saves maintenance costs and time and reduces anomalies and product line shutdown.
The PCB conformal coating dispensing and inspection solution adopts Delta's highly precise and industrial automated products to control the dispensing amount and positions and quickly adjust paths. The machine vision system helps the customer inspect the coatings with high efficiency and quality, and the secondary inspection only requires a little time and manpower. The solution can be broadly used in industries such as automotive and electronics components, industrial products, precise instruments, information communication equipment, consumer electronics, and more.
#SuccessStory