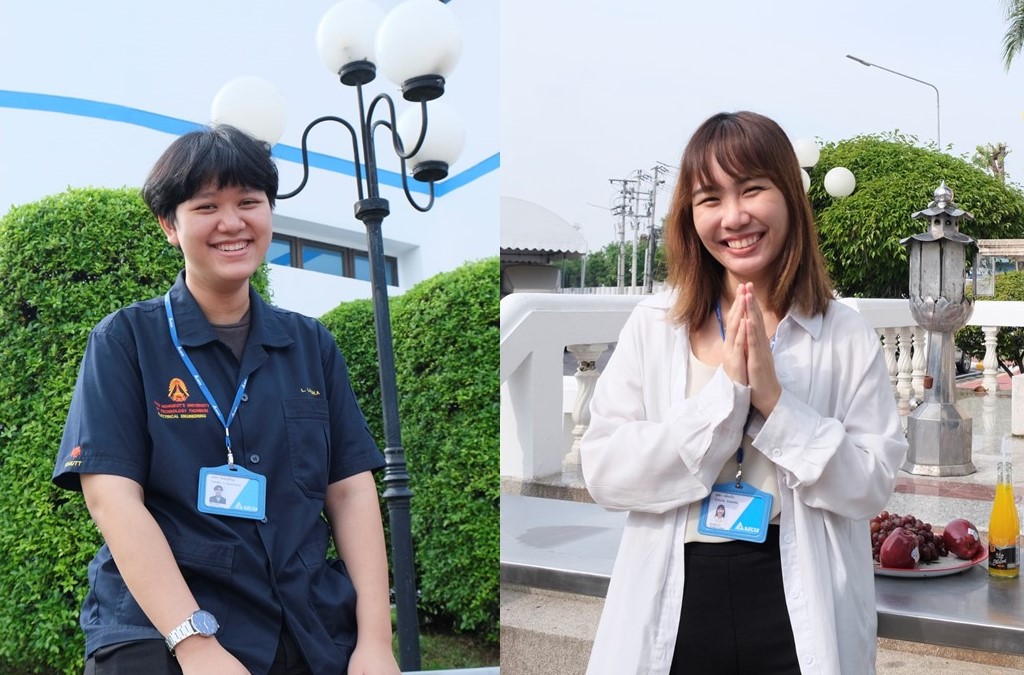 Bangkok, Thailand, September 28, 2022-Many Thais may not know that Taiwan universities and companies offer rich study and work opportunities. Delta Electronics Thailand is an international company in Thailand, with a parent company in Taiwan, and the annual Delta International Exchange Program offers Thai students a unique chance to get world-class training in Thailand or Taiwan.
Although COVID-19 travel restrictions have limited some work abroad activities, our 2022 class was able to learn and train in an international environment at Delta's Thailand plants. Today we talk with two intelligent and social female Thai engineering students, Laksika Lowpunsirikul and Kulacha Klunklin (left and right in the above photo), about their experiences with the Delta Thailand International Exchange Program.
Please tell us a bit about yourself. Where are you from? What are you studying, and why did you choose this major/field of study?
Laksika: I'm from Bangkok and study electrical engineering at King Mongkut's University of Technology Thonburi (KMUTT), Faculty of Engineering. My major is electrical engineering with a specialization in renewable energy. I actually graduated in August but am now doing my internship that was delayed due to COVID-19.
I find electrical engineering interesting because it is the basis for many fields of technology. So if I truly understand it, it could be useful for future work. I think renewable energy is an upcoming trend. RD team power supply.
Kulacha: I'm from Chiang Mai and am a fourth-year student at the National Cheng Kung University (NCKU) Faculty of Engineering. I originally entered Chulalongkorn University in Thailand but after getting a scholarship I enrolled to the international program at NCKU in Tainan, Taiwan. I was already familiar with the country as my stepfather is Taiwanese and I have visited many times in my childhood.
My Taiwanese professors are very professional and their English is very good. Taiwan is a lot like Thailand in terms of climate and cost of living and it's easy to find Thai food. The cities are tidy but the only difficulty is the language and I had a crash course in Chinese once I arrived.
I chose to major in Energy Engineering because in the upcoming decades I believe alternative energy will play a very crucial role in our lives. So I hope I can apply my studies to advance green energy for the next generation.
How did you find out about the Delta International Exchange program, and why did you join?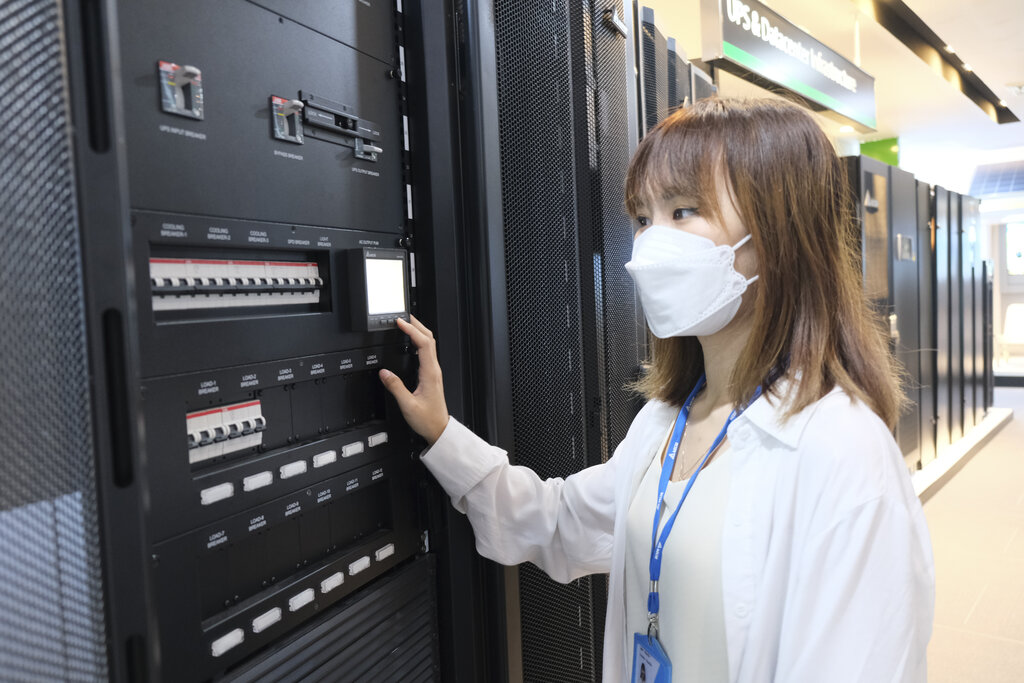 Kulacha: I first learned details about the program in a school email about the Delta x NCKU Butterfly Project Butterfly Program. Then Delta also visited my campus in Taiwan and the Thai HR introduced the company to us.
I decided to join this program because I want to pursue my future career and apply my academic knowledge to practical experiences. Delta is a company with growth potential that can provide me with the opportunity to accomplish my objectives.
Laksika: I found out about this program from my friend who was a Delta intern before. I decided to participate because Delta Electronics is the industry leader in power electronics so I believe I'll gain valuable experience from this company. I applied through the Delta website when I was in my fourth year.
How long is your internship at Delta?
Laksika: I intern at Delta for four months from June to September 2022. I train at the Delta Plant 5 CDBU R&D and am on the testing team for our developed power supply products.
Kulacha: My internship period lasts for two months from Aug 1-Sept 30, 2022. I am training at the Delta Plant 5 CIS BU working with Delta green products.
What are your main roles as a Delta Thailand Intern, and what is the most interesting part of your work?
Laksika: My main responsibility in the testing team is to work on real-time monitoring projects where we monitor different values in automation testing such as voltage, current, frequency of input and output. The most interesting part of this work is the programming language we use called C# because this is a language that I had never used before.
I spend my time learning the structure of C# and trying to adapt to our team's work style. My supervisor teaches me and I learn myself through Google searches or YouTube videos. At the very least, I need to make sure my part of the project is done but my work cannot be completed unless I receive advice from my supervisors. That's why I'm immensely thankful to them for their support.
Kulacha: My intern work focuses on data center infrastructure and my main role is designing the data center room to fit our customers' preferences. I use design software I learned in university like SolidWorks and AutoCAD which is a lot of fun. There are 5-6 people on my team including engineers who do project cost management, service and engineering sales. We also have product marketing in our department.
In the two months here, I have already been involved in two actual business projects to design data center rooms for customers with different types of Delta cooling systems like RowCool, down flow cooling and microdata center with inbuilt cooling. The most interesting part of this work for me is designing the data center rooms to reduce the most energy consumption. This is directly related to my major.
What are the most valuable skills you are gaining from your internship at Delta Thailand, and how will they help you in your future career?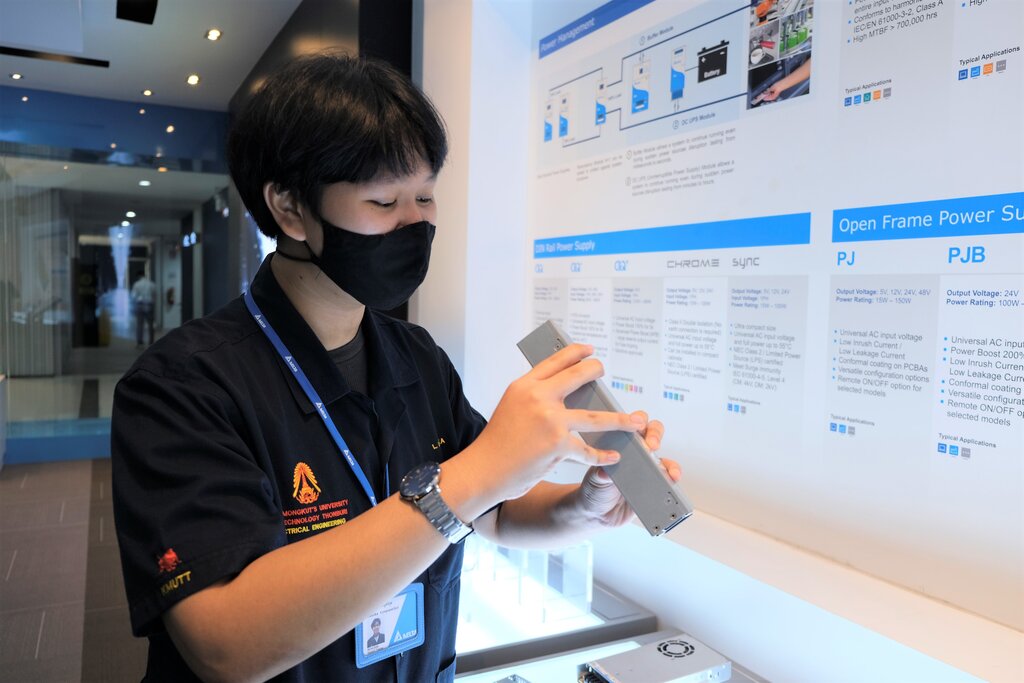 Laksika: The most valuable skill I am learning here is good communication. On the job, I learn how to communicate with people who are older than me and people with different personalities. We have 12 people on the testing team and only two are female. We have engineers in their early 20s like me and other engineers in their 40s so I must change my way of communicating.
Some people must be approached in a respectful manner and others in a more friendly way. Learning this difference is an important skill that will enable me to be a productive employee. I try to be mindful of this when we talk in meetings or I ask for advice or borrow equipment or I need some help.
Kulacha: Here I develop social skills like communication which helps me to work better with others. Moreover, I get more responsibility for my assigned role and tasks in each project. Even as an intern, I need to do my assigned work and if I can't finish my tasks well then others can't do their part. So I must take ownership.
How is your supervisor supporting your internship experience, and what are you learning about working with others?
Laksika: My supervisor Mr. Adisak or Jack always encourages me and teaches me step by step. He patiently answers all of my questions. In addition, my seniors took me to the Quality Engineering (QE) department to learn about another side of power supply testing. In our team, we do electrical function tests to see if the product works or not but in QE they do environment and safety testing to comply with industry standards and customer requirements.
One thing I've learned from my supervisor is that you don't have to fight everyone who insults you. A leader should be calm at all times and concentrate on making the work go smoothly and directing the team to success. At work, there are sometimes "interesting" characters, but Mr.Adisak is a really chill kind of guy who always stays cool and he never gets upset even when others are confrontational.
Kulacha: My supervisor Mr. Sakda is the SEA Senior Director of CISBU. He is a very kind engineering and business leader who takes the time to get to know me even though he is very busy developing a business across the region. He is willing to teach me when I have questions. Everyone on my team helps me when I need support.
My supervisor plays a very important role during my internship because he makes sure I always learn a lot of knowledge, both theoretical and practical, which makes me understand the broader scope of my department's work. At the same time, working with others on my team helps me to learn new skills and ways of thinking, which greatly impacts my personal development.
What do you recommend other students do to prepare for an internship and work in a factory?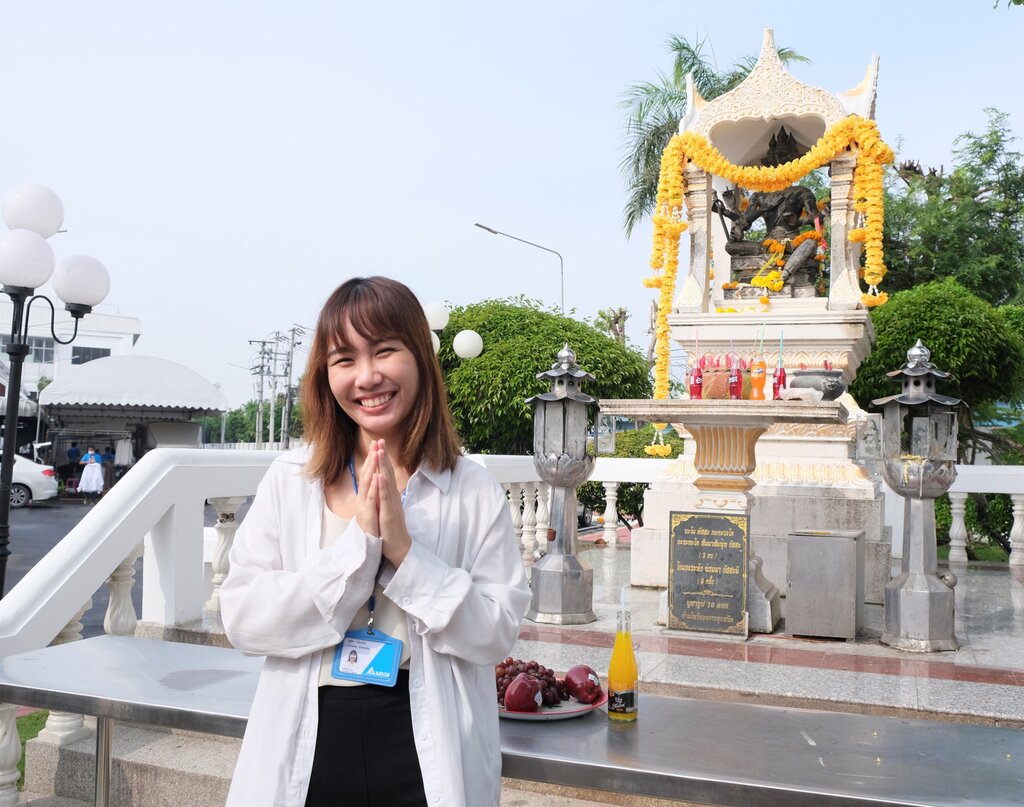 Kulacha: Discover what you like and which type of work you prefer. Review your knowledge well beforehand so that you can use your time well at work to improve your skills. For data center design you need to learn basic software programming and have solid electrical skills like wiring and device setup at the installation sites.
Laksika: I recommend everyone to keep an open mind and always see the glass as half full in life. You may receive an assignment that is unrelated to your field and wonder why you need to train in it. But believe me, knowing real-life skills are preferable to not knowing, and you may need to use them in the future.
For those looking to join R&D, learn basic programming languages like C#, Python and Visual Basic as it makes it a lot easier to do your work if you at least understand the code that the firmware engineers wrote and can optimize it yourself instead of relying on others to modify the code for you.
What do you find unique about Delta Thailand?
Laksika: What's unique about Delta is its product variety. Delta not only manufactures power supplies, but also EV chargers, automotive power electronics, telecommunication power etc. This makes Delta a standout company.
The main power R&D center can be a very stressful place to work, but in our testing room, the team is always talking and helping each other when we have problems. I have visited other companies and I feel Delta is a comfortable place that has space to relax and a green environment with a natural feel in the lobby.
Kulacha: Delta has a lot of foreigners working or visiting here which provides me with a good chance to work with people from different cultures. Additionally, Delta has a strong welfare program that demonstrates how much the company values its employees.
What are the most important factors for you when choosing a company to work at after graduation?
Laksika: I'm not too concerned with the size of the company or whether it's a small or large organization. However, I concentrate on my job responsibilities. My work responsibility is something I do every day so if I don't like it or am not passionate about it, I won't do it well.
In electrical engineering, there are many specialized roles like design, documentation, data analysis and testing. The main role I want to be in is data analysis.
Kulacha: The most important factor for me is the opportunity for self-improvement. I would like to work in an environment that helps me to advance my knowledge and skills.
I'd like a good working environment with nice co-workers who can talk together and share their ideas about our work. This team spirit encourages me to constantly improve my practical and soft skills.
Can you share your next plans, and do you have any ideas to make the internship experience better?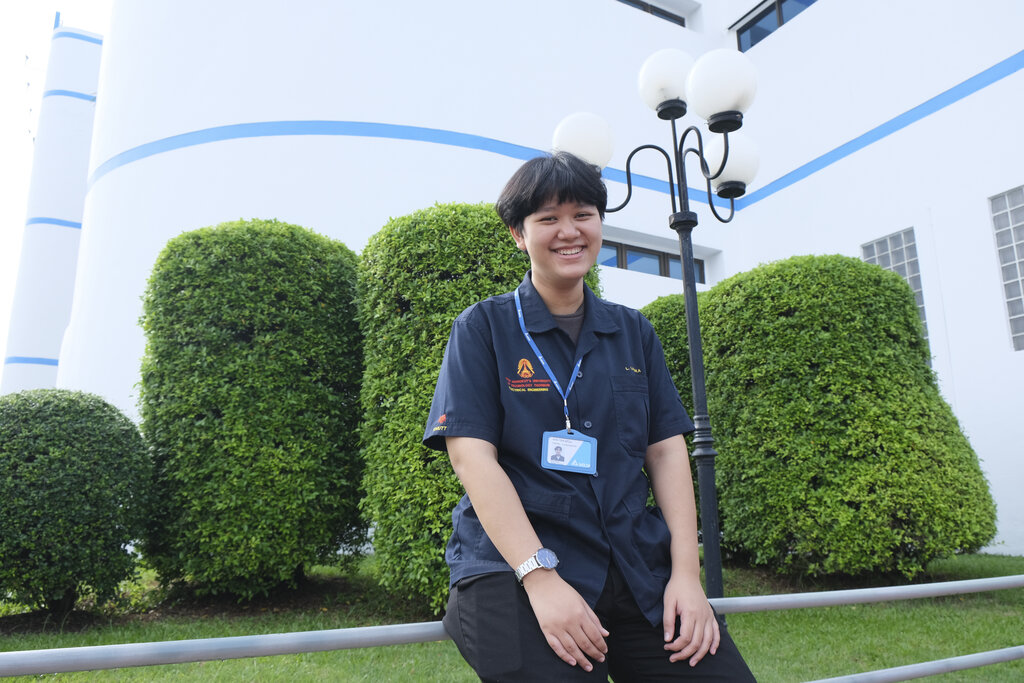 Laksika: I have learned German and would like to continue learning Chinese or other languages. Aside from technical skills, I believe that knowing more languages will give me more opportunities.
In the future, I want to work in the renewable energy industry as I love solar cells and wind turbines. I actually already found a job and will start next month as a renewable energy engineer at a local solar power plant.
Kulacha: I could make my internship experience even better by receiving feedback about my assigned work since it enables me to identify my strengths and find new methods to develop them.
After finishing my internship, I will go back to complete my studies and after graduation, if given the chance, I would like to apply for a job with Delta. I want to continue as a design engineer and can work in either Thailand or Taiwan but I prefer working in Thailand.
Jump straight into elite engineering at Delta
Are you an intelligent and curious Thai engineering student who wants to take on the ultimate challenge of power R&D or real business projects with clients? Find out more about the Delta International Intern Exchange Program from our Delta Thailand Careers Page or contact our HR today.