Delta Ventilation Fans are Powerful, Durable, Quiet and Efficient
Leveraged more-than-25-year experience of innovation and quality assurance, the DC brushless motor technology inside every Delta ventilation fan is why our products continue setting new industry standard for high energy-efficient performance.
Majority of our US Breez fan models are ENERGY STAR certified, while models in all other regions are designed and tested with same quality control, plus at least 5-Year warranty, to offer products which are:
● Rigorously tested to achieve minimum noise
● Equipped with soft start and lock protection functions
● Engineered to run continuously for 70,000 hours
The Energy-saving Bathroom Solution
The introduction of Delta ventilation fans marks the industry's achievement for green constructions accommodated with energy-efficient bathroom ventilation. Our fan delivers not only the aesthetic appearance but the ventilation solution that consumes less power, at the same time coming with more advanced functionality and operating quietly compared with the AC motor models in the market.
World Leading Core Technology
Delta Electronics ventilation products integrate our world leading switching power supplies and brushless DC motors technology to design and manufacture DC ventilation fans and heater fan. Our products not only meet the market requirements of energy saving and indoor air quality, but help customers achieve a quiet and comfortable life quality.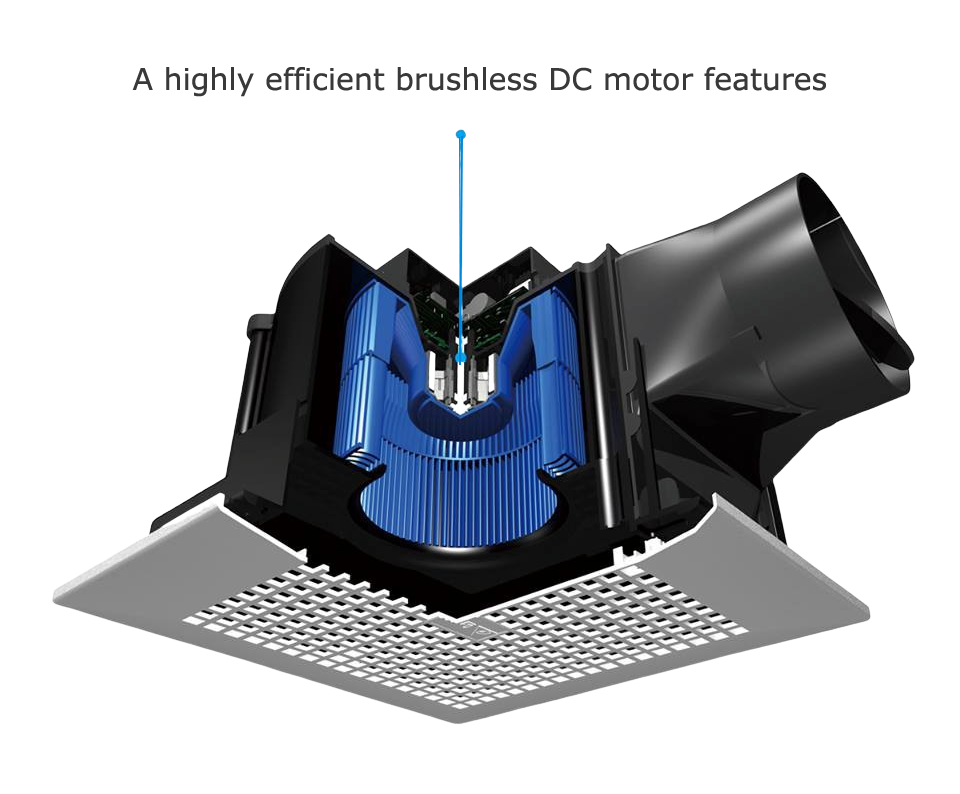 Reliability: Delta's brushless DC motor fans are engineered to outlast popular AC motor models by as much as 70%, saving you time and money on replacements.
Efficiency: Delta brushless DC motor fans are among the most efficient ventilation fans available. All Delta ventilation fans are precision engineered to run continuously for a minimum 70,000 hours.
Less Noise: Delta's brushless DC motor fans are precision engineered for low sound.
Less Power consumption Delta's brushless DC motor fans use up to 74% less power than popular AC motor exhaust fans.