Data Center
Busway, Cloud & Colocation Data Center Infrastructure Solutions
Delta ensures continuity for our customers' mission critical operations and reduces their total cost of ownership. Our efficient and highly reliable products and services range from busway, cloud and colocation data center solutions to uninterruptible power supplies (UPS) and our InfraSuite Datacenter Infrastructure Solutions.
Data Center Infrastructure Solutions
Our Tier 3 and above data center solutions have been developed to provide companies with real-time data access while safeguarding the security of that data with industry-leading security features. The modular nature of our data center infrastructure design enables IT managers to implement highly efficient and reliable data center solutions on a wide variety of server configurations, quickly and effectively. For maximum reliability and availability, InfraSuite is the obvious solution.
Delta's InfraSuite provides a highly flexible and scalable data center solution for companies in all industries and market sectors. The independent nature of the 4 main InfraSuite modules allows IT managers to maximize efficiency and minimize implementation/running costs with data center solutions that provide a competitive edge in the 21st century. Whilst being independently configurable, the Power Management, Rack and Accessories, Precision Cooling and Environmental Management System modules are fully interoperable, providing a seamlessly integrated system architecture with 24/7/365 monitoring capabilities from any location.
Four Module Cloud Data Center Solutions
Delta's InfraSuite Data Center Infrastructure Solutions are grouped into four main modules which optimize our customers' ability to maximize operating efficiency at the lowest cost, maintain a high level of flexibility and control for IT managers, quickly scale to meet demand, and monitor data center solutions 24/7/365 from anywhere around the world.
These modules are as follows: Power Management, Rack and Accessories, precision cooling and Environmental Management System. The interlocking nature of the modules allows companies to implement fully integrated system architecture.
Delta offers a full stack colocation data center in Thailand for a worldwide client base, providing an uninterrupted service that negates the need for additional data center security, server, or backup services from any other provider.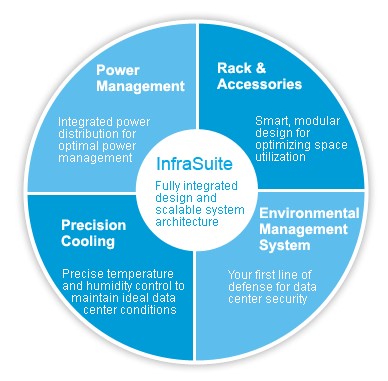 InfraSuite Data Center Advantages
There are a number of advantages to be gained when using Infrasuite, including but not limited to:
■ Ideal safeguard for data center operations
■ Modular design for quick and easy tool-free assembly
■ Scalability to match data center with enterprise growth
■ Optimized space utilization and operating costs
■ High efficiency, energy-saving power components for eco-friendly data rooms
■ Optimal power distribution and protection
■ Precise temperature and humidity control
■ Reliable and uninterrupted operations 365 days a year
■ Easy integration with all data room structures
■ A complete environmental management system for worry-free operations
The list above is by no means exhaustive, please get in touch to learn more about our full raft of busway DCIM data center services and how Delta can transform your existing business infrastructure.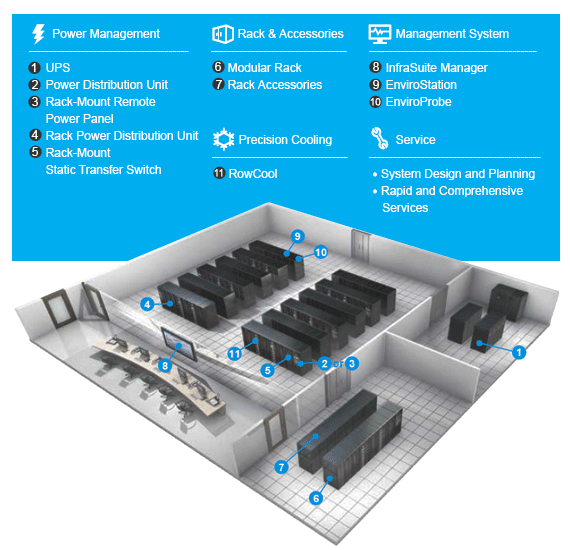 Take a 3D virtual tour of the Delta Thailand headquarters data center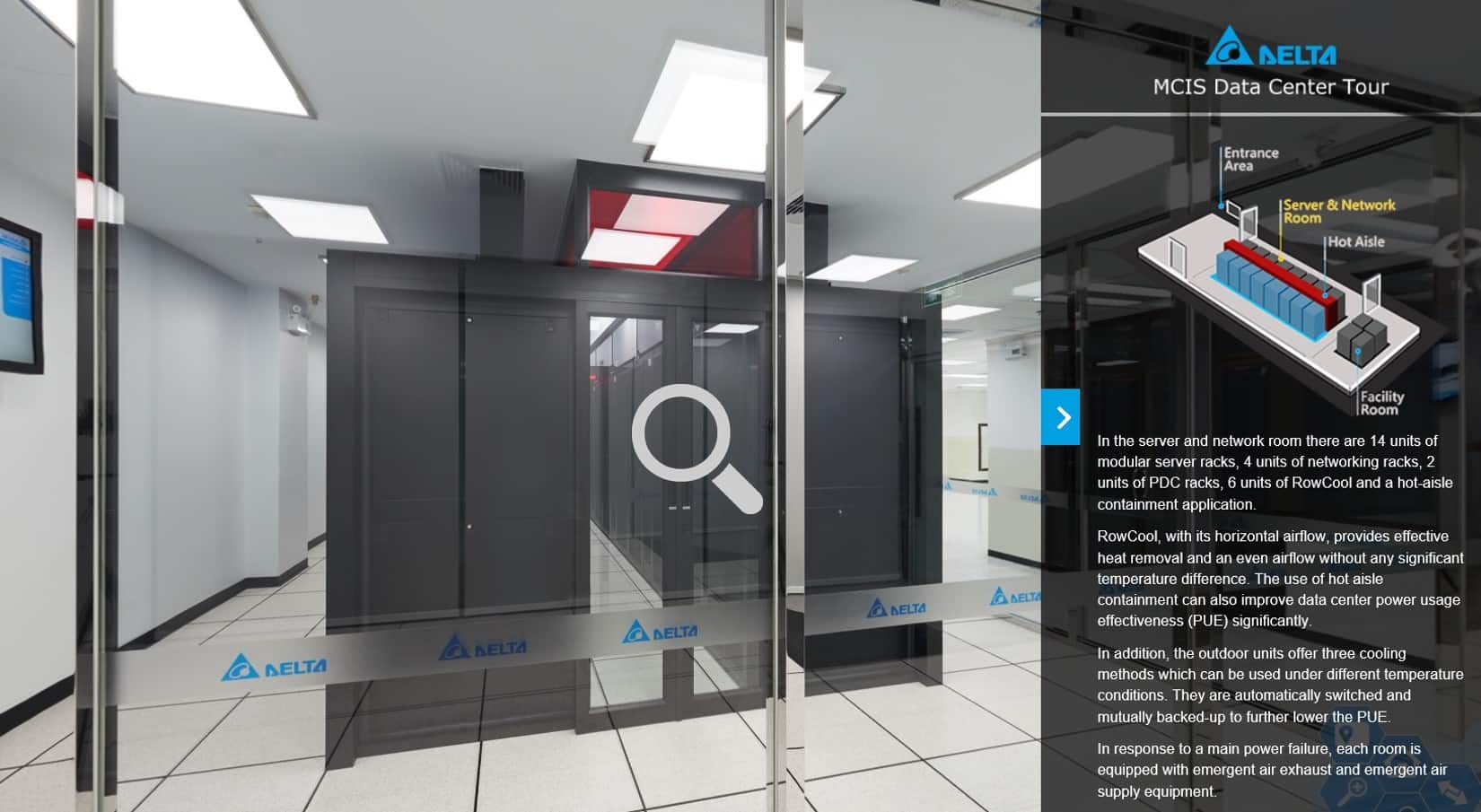 Watch Delta InfraSuite Datacenter Infrastructure Solutions Video
Tell us Your Requirements
Although we work at the forefront of UPS, ICT infrastructure and modular data center technology, we offer a high level of personalized service. When you make your initial enquiry with Delta, either by phone, e-mail or online message service, our sales will work to answer any questions you may have efficiently and quickly in person. All you need to do is outline your requirements and the scope of any ongoing projects and our team will be happy to offer you an obligation-free inquiry response into our services.
Solutions provided
| | | | | | | |
| --- | --- | --- | --- | --- | --- | --- |
| | | | | | | |
| Micro Data Center | | POD | | Containerized Data Center | | Power Container |
Download Brochure > Delta InfraSuite Data Center Infrastructure Solutions Brochure