Intelligent Surveillance
VIVOTEK is a leading brand of video surveillance solutions with a strong focus on R&D and innovation, and international brand recognition. VIVOTEK has been developing state-of-the-art video surveillance solutions for more than 17 years, including IoT-based smart imaging analytics. Leveraging Delta's extensive and versatile resources is expected to be highly beneficial to VIVOTEK's overall business. From a product perspective, both companies could jointly develop competitive solutions capable of satisfying a larger spectrum of applications; in terms of business development, VIVOTEK could leverage Delta's growing global presence and market channels to boost its performance; from a production standpoint, VIVOTEK could benefit from Delta's automated manufacturing knowhow. For more information, please visit www.vivotek.com.
Awards and Recognition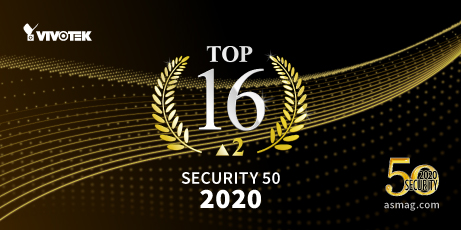 VIVOTEK has been ranked the top 16 in the 2020 Security 50 by asmag .com and named among the top 20 companies for the 8th consecutive year.