Sydney, May 3rd, 2023 – Delta Electronics Australia has returned to the 2023 Smart Energy expo, held at Sydney's ICC, with its biggest presence yet, showcasing a complete technological eco-system featuring a portfolio of energy and charging solutions for corporate, industrial and private customers.
Delta's stand at Smart Energy this year demonstrates a complete charging solution offered by the global giant: from solar panels providing clean energy, through to sophisticated energy management and storage units, to direct, vehicle-to-grid smart electric vehicle (EV) charging. Completing the display: a futuristic BMW Motorrad CE04 scooter on-charge.
Country Manager for Delta Electronics (Australia), Mr. David Leal, was eager to present Delta's latest products and showcase a complete charging solution from the brand to attendees.
"The local and global requirements for energy and charging technology have advanced considerably once again since the last Smart Energy Expo in 2022, and Delta Electronics stands ready to meet that demand," Mr. Leal said.
"It's no longer enough to offer EV charging to the end-user alone, our customers are looking for the most efficient way to collect, store and maintain energy distribution in a way that is customisable and efficient. As a global leader with decades of experience in developing cutting-edge technology, there is no-one better than Delta to show the way and offer the full gamut of customers a holistic solution for their needs," he continued.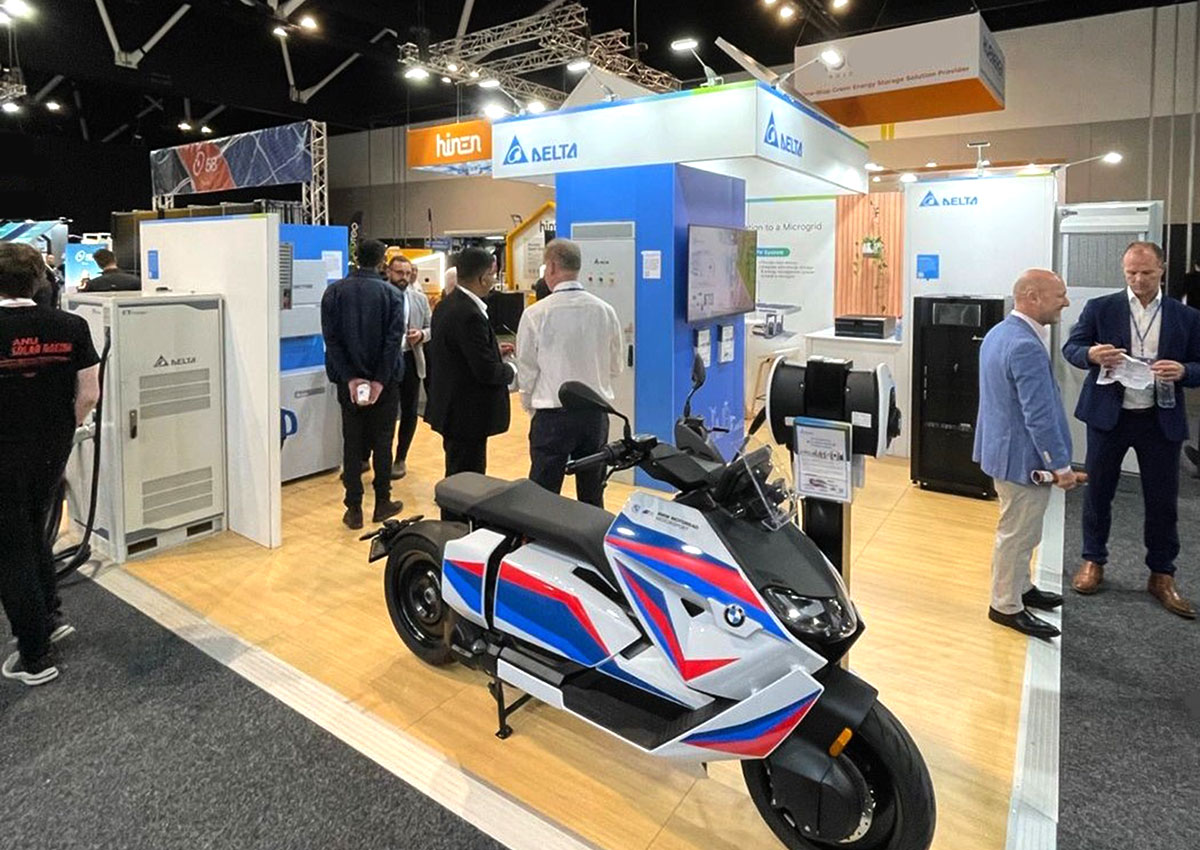 Delta's Technology Highlights at Smart Energy 2023
On display at Smart Energy 2023 is a wide range of Delta's energy and charging products, all working together in a theoretical eco-system, giving expo attendees a glimpse at the future of our homes, offices, city streets and highways.
EV Charging Solutions: From small capacity AC 7kW (AC Max) chargers to large, DC 200kW city chargers, Delta's range encompasses the full gamut of charging solutions for today's mobility requirements and the future.
Giving customers the potential to have greater control over how they use EVs, Delta offers a highly versatile portfolio, including AC 7kW (AC Max) to DC 200kW (City Chargers) and charging site management systems. Delta remains a preferred provider for many private, corporate and industrial customers, having already supplied more than 2,000,000 chargers globally.
DC Wallbox 50kW: The slimline DC Wallbox 50kW has been developed to provide high-efficiency charging services for commercial sites. Offering more than 200km range from a one-hour charge time and supporting simultaneous charging with a maximum output of 50kW of DC power from two charging plugs, the DC Wallbox 50kW is suitable for sites such as roadside parking, parking lots, department stores, commercial and office buildings, and EV fleet charging stations. The ultra-slim 25cm profile also eliminates having to rearrange existing parking spaces.
DeltaGrid: Delta's EV charging management system provides a cloud-based background for EV charging stations. It can be quickly imported without complicated settings, helping charging station operators to effectively manage and maximize the utilization rate of chargers. It also has smart energy management functions, which can be integrated with energy storage and solar energy systems for power regulation, to optimize charging services, operating, and energy efficiency.
Power Conditioning Systems and Energy Storage Systems: On display at Smart Energy is Delta's renowned Power Conditioning Systems (PCS). These bi-directional energy storage inverters are used for grid-tied, off-grid, commercial and industrial applications including power backup, peak shaving, load shifting, photovoltaic (PV) self-consumption and PV smoothing. Their compactness saves space while offering scalability for various system configurations as well as integration with mainstream branded battery systems. Delta was one of the first companies in the world to certify its PCS range to Australian standards.

Beyond its presence at Smart Energy, and the armada of its products on display, Delta is uniquely positioned to service a wide range of customers with varying requirements throughout the entire Battery Energy Storage Systems (BESS) value chain, with a range of solutions for system integrators, battery technology providers, smaller corporate and community-based clients.
With R&D, manufacturing and sales networks spanning the globe, Delta delivers innovation to support Australian government, businesses and homeowners to operate smarter, greener and more efficiently every day. Backed by constant innovation and local technical support, Delta's passion for intelligent and energy-efficient solutions underpins the company brand promise: Smarter. Greener. Together.