Manila Philippines, October 20-21, 2022- Delta Electronics joined the Electric Vehicle Association of the Philippines (EVAP) 10th Philippine EV Summit to showcase a complete Smart EV Charging Infrastructure for the Philippines which includes DC and AC EV charging combined with solar power, energy storage and the DeltaGrid® energy and charging management solution. This grid-tied solution offers better availability and flexibility for EV drivers and charging station operators compared with traditional grid-dependent systems.
Held at SMX Convention Center Manila, Pasay City, the summit is the biggest annual conference focused on promoting EVs in the country. It is a unique platform for policy dialogue, knowledge exchange, and best practice sharing to accelerate electro-mobility in the Philippine transport sector in support of the government's move to a low-carbon economy.
"We cover more than just EV Charging!" Ms. Genalyn Pablo-Llorando, Delta Philippines Country Sales Manager and head of Energy Infrastructure Solutions (EIS) Business Unit, said at the Delta booth. "Delta's Smart EV Charging Infrastructure can convert your charge point operation into a solar-powered system with better efficiency than grid-powered systems thru our PV Systems and Energy Storage Solutions. This improves your charging service, optimizes your energy cost, and tackles power peaking with an on-site energy storage system and our Delta Grid Charging Infrastructure and Energy Management. This is especially beneficial for EV charging points in rural areas of the Philippines which have challenges of isolated islands and grid distribution and transmission issues. This is truly a future-proof solution for our EV charging portfolio and one of Delta's many approaches to battle the impact of climate change!"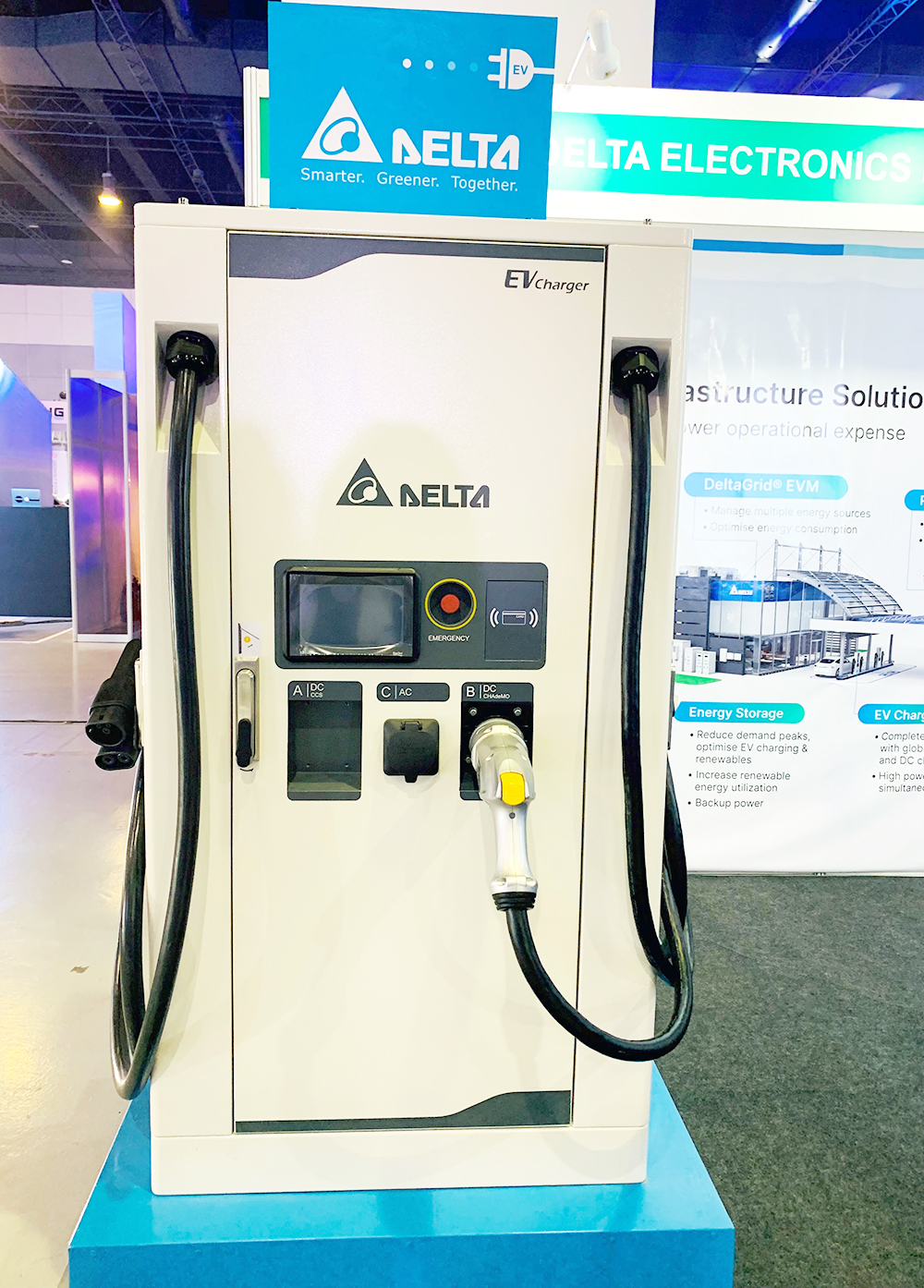 Visitors to the event could explore Delta's complete offering of products and solutions to harness clean renewable energy and drive low-carbon EVs in the Philippines. Showcases products and solutions include:
• AC Max: A smart AC charger with 22kW output and featuring a universal charging interface. With IP55 / IK10 and compact design, the AC MAX is perfectly suited to outdoor and space-limited sites. Supporting the advanced ISO 15118 standard, network connectivity and compatibility with the latest OCPP, AC MAX allows full interoperability with existing system integration and is the ideal solution for commercial and residential charging sites.
• DC City 100kW: The ideal solution for high-efficiency urban charging service. It supports simultaneous charging output and load distribution to optimize the utilization rate of the charger. City Charger is compatible with OCPP, which allows further backend system integration like user management, remote control and energy management.
• DeltaGrid® EV charging management: This solution ensures reliable charging services under existing power facilities by integrating energy storage and solar systems. Operators can capitalize on the advantages of peak shaving, PV self-consumption, and off-peak electricity load shifting. It also includes a back-end management system for payment system, precise management of energy sources and loads, with integrated functions.
Delta offers EV drivers and EV charging station operators a comprehensive and integrated solution to help balance electricity safety, reasonable costs and service accessibility when building EV charging infrastructure, Delta includes EV chargers into the scope of load management and energy dispatching from the perspective of high-energy-consuming equipment.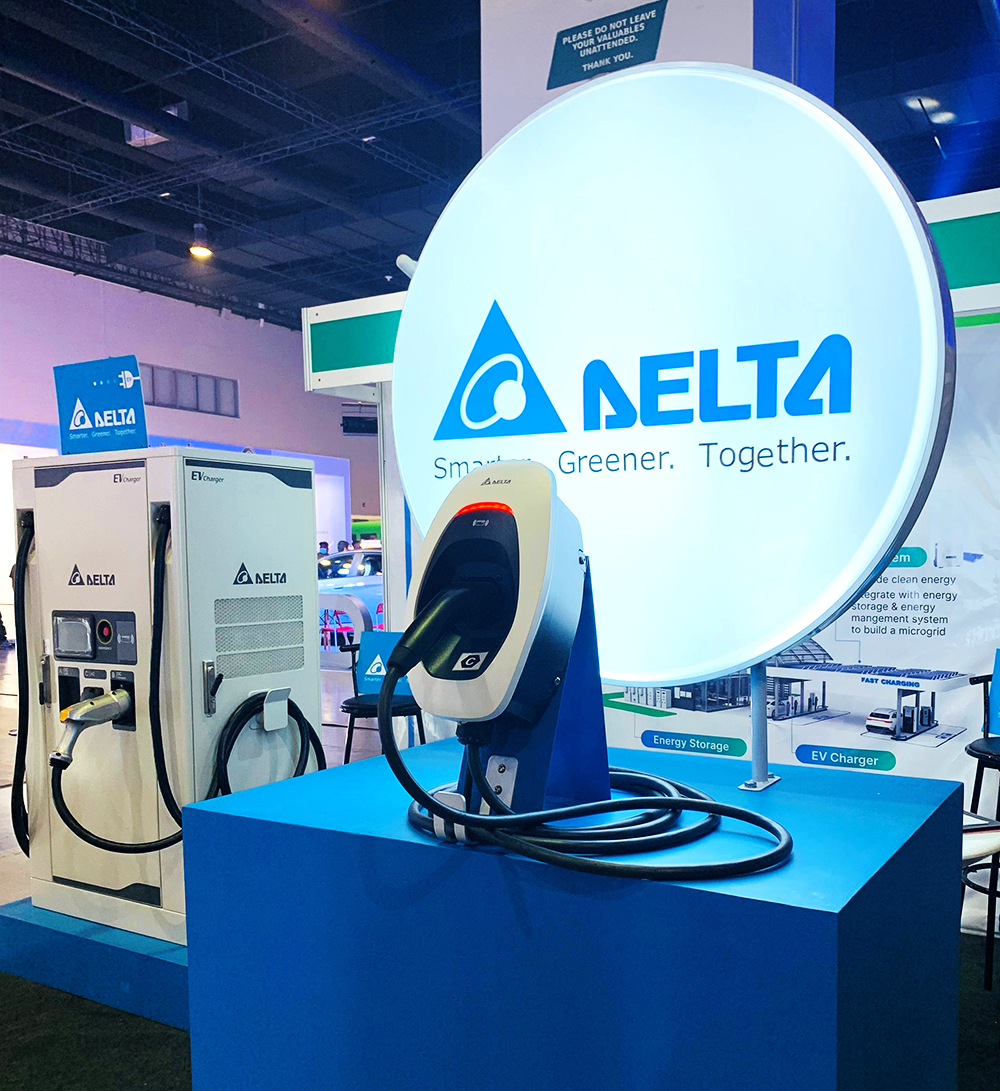 Delta had already sold more than 1.5 Million EV chargers worldwide in a wide range of residential, commercial, workplace, public, and fleet charging sites. Whether it's for home charging use or employees to charge throughout the day or for highway service stations where drivers expect to stay for only a cup of coffee, there is suitable EV charging infrastructure to choose from.
The DeltaGrid® EVM enhances charging service operations, system connectivity and digital services by charger grouping, prioritization, and scheduling to limit the maximum current output and leverage time-of-use electricity prices.
As a regional renewable energy and EV charging solutions provider, Delta offers energy-saving and practical solutions to support electrification in the Philippines. Delta's brand promise is "Smarter. Greener. Together." which means to provide innovative, clean and energy-efficient solutions for a better tomorrow. As proof, from 2010 to 2020, Delta has realized energy consumption savings of around 33.5 B kWh or 17.8 Million tons of carbon emissions reduction worldwide.