When wearing masks for protection against COVID-19, makeup wearers are leveraging eyeshadow products now more than ever to express themselves, despite having half of their face covered. Among the key factors influencing their buying decisions, apart from the quality of the product itself, is the packaging, which certainly plays a role via stylish designs.

Eyeshadow palettes vary by size and even by levels of sustainability. Larger palettes with multiple colors are usually composed of powder pans embedded in a plastic or cardboard tray. The latter kind has gained increasing popularity because of the rising awareness of sustainability and more possibilities in visual designs.

In the process of manufacturing a cardboard palette, a raw cardboard tray is attached to pieces of decorative paper to make a complete and beautiful palette. The high level of precision required reaches up to ±0.1mm. Traditional manual assembly no longer fulfills these requirements as it relies heavily on the experience and expertise of the staff. Other problems include uneven portions of glued parts, and stains caused by glue overflow. Eventually, productivity and price competitiveness reach their limits.

Delta has developed an automated solution for eyeshadow palette assembly for a customer in southern China. The solution leverages Delta's machine vision system and SCARA robot to enhance quality and productivity. The machine vision system first positions the palette and the decorative paper with cameras above and below the conveyor belt. The SCARA robot then modifies the positions accordingly and attaches the palette precisely to the decorative paper.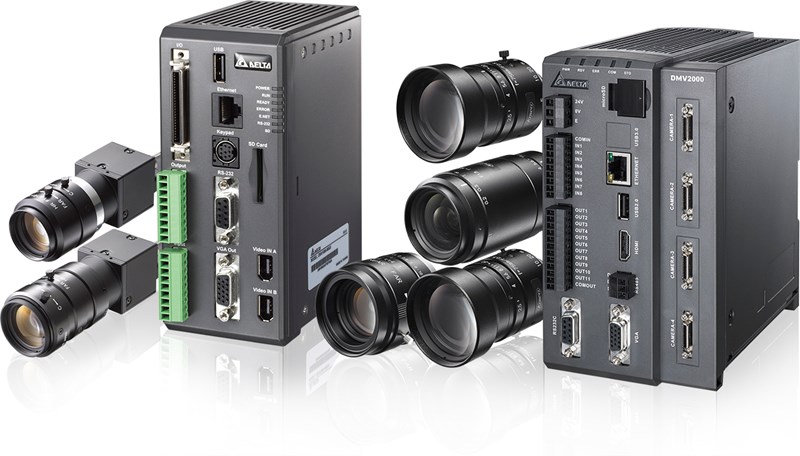 This solution integrates the vision system and the robot for easier operation. The Delta Machine Vision System DMV Series leverages Delta's smart positioning and assembly software to enable agile and flexible changeovers with easy parameter configuration. The Delta SCARA Robot DRS60L Series carries out high precision motion with stability. Operators can develop industry-specific custom functions with its controller, the Delta Robot Controller DCS Series.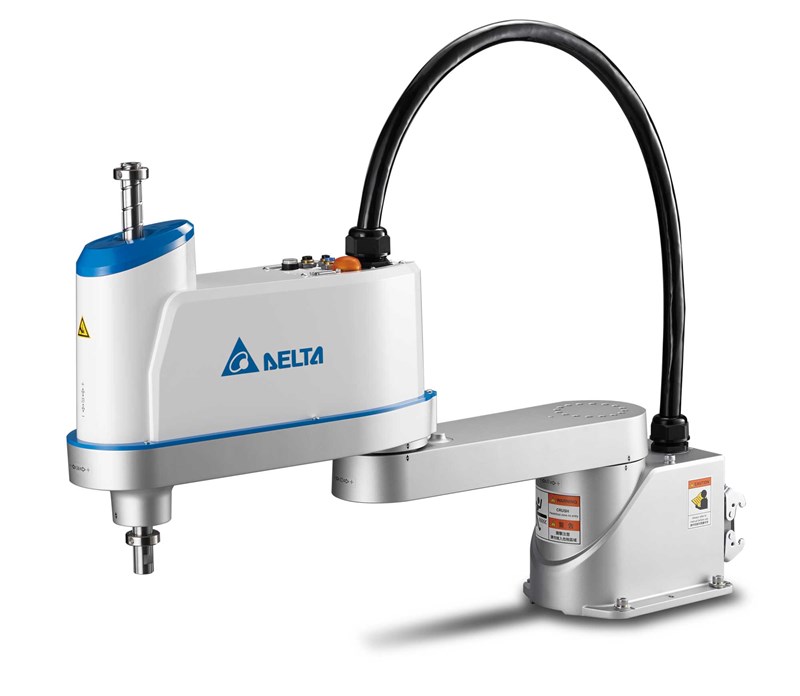 The solution integrates the operation and control software of the SCARA robot and machine vision system. This enables efficient project management and it simply takes one click to carry out changeovers.
Delta's eyeshadow assembly solution brings the following benefits to the client:
Integrated solution for convenient operation
The integration of the machine vision and SCARA robot systems makes parameter configuration and calibration faster. Project management mode allows convenient changeovers with just one click to switch relevant sets of configurations. In addition, the machine vision system provides high compatibility as it works with various types of cameras.
High repeatability delivers stable quality
The Delta SCARA Robot DRS60L Series provides excellent balance between speed and repeatability to ensure stable quality even at high speeds.
Real-time monitoring of equipment status for informed management decisions
Delta's smart positioning and assembly software analyzes production data in real time to monitor equipment status, which provides managers more comprehensive control over their production lines.

Delta's eyeshadow assembly solution delivers better precision and efficiency with automation equipment. It integrates the machine vision and SCARA robot systems to make the operation easier and allows a higher degree of custom development. With continuous monitoring of the equipment status, the solution also helps to optimize managerial decisions.
News Source:IABG MKT Dept.