Sydney, May 4th, 2022 – Delta Electronics Australia has today unveiled an armada of innovative electric vehicle (EV) charging solutions at the Smart Energy 2022 expo, held at Sydney's ICC. This year, Delta Electronics used its presence at Australia's premier solar, storage and smart energy event to showcase a raft of next-gen technology with smart sustainability at its core. Product highlights include a new V2X charger, DC Wallbox 50kW charger and a solar off-grid solution, specifically designed for electrification in rural areas.
Embodying Delta's own 'Smarter. Greener. Together.' ethos, these new products represent a seismic shift in EV charging technology; offering consumers greater efficiency, transparency and flexibility.
Country Manager for Delta Electronics (Australia), Mr. David Leal, was thrilled to be presenting Delta's newest, cutting-edge products to Australian consumers.
"Delta continues to lead the industry with solutions that provide consumers with a genuine, viable alternative in moving towards electromobility. Delta's ability to develop highly efficient and reliable energy management products, such as the electric vehicle chargers and photovoltaic inverters we are showcasing at Smart Energy, is what sets us apart," Mr Leal said.
"As the first major show post-COVID, and at a time when sustainability and the benefits of electrification are the topic of our time, this a great opportunity for us to show how the latest technology can revolutionize the Australian and New Zealand market," he continued.
Unveiled: Delta's technology highlights at Smart Energy 2022
Delta's range of smart charging solutions have the potential to give consumers greater control over how they use EVs, and support the rapid uptake of the technology.
• New DC Wallbox 50kW: The DC Wallbox 50kW has been developed to provide high-efficiency charging services for commercial sites. With a charging efficiency of ≥ 96 %, and support for simultaneous charging with a maximum output of 50kW of DC power from two charging plugs, the DC Wallbox 50kW is suitable for sites such as roadside parking, parking lots, department stores, commercial and office buildings, and EV fleet charging stations. The ultra slim 25 cm profile eliminates having to rearrange existing parking spaces.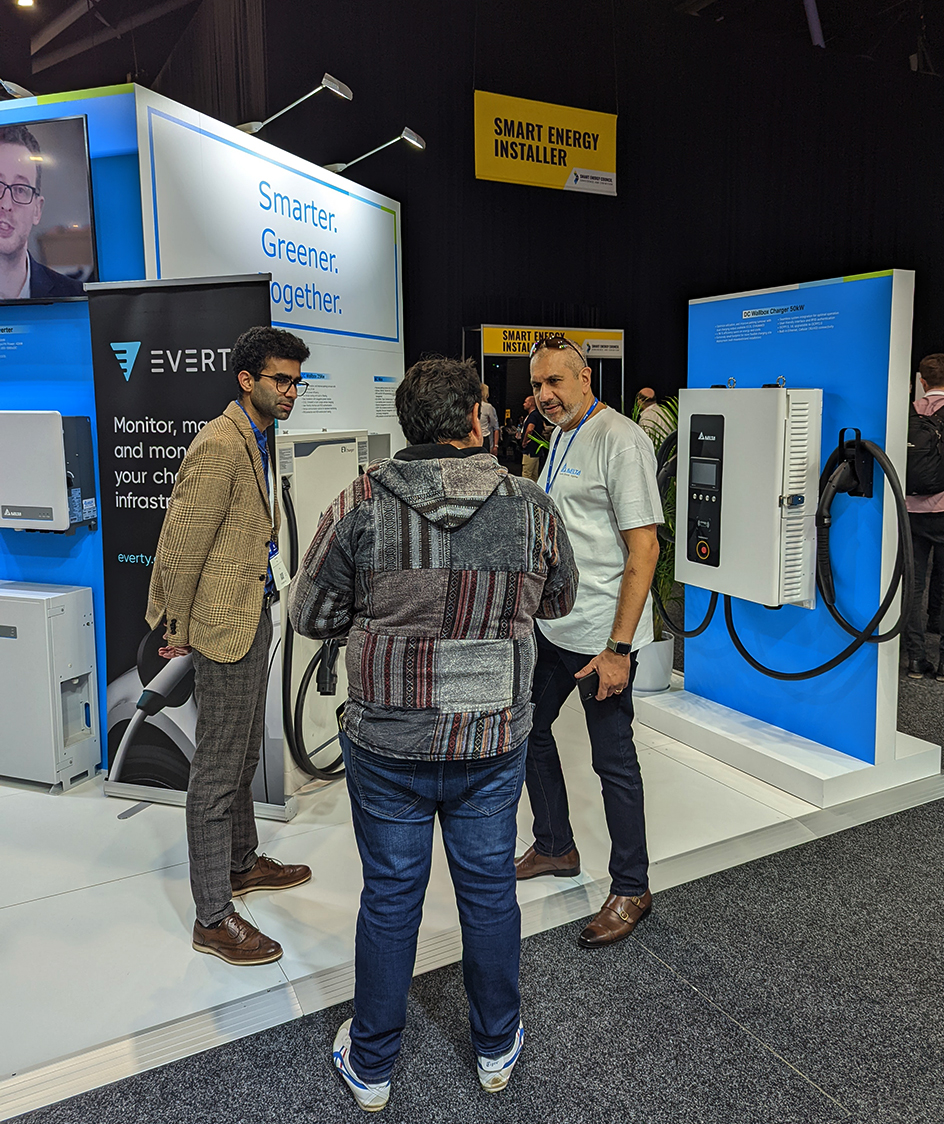 • New V2X Charger: Delta's V2X Bi-directional Charging Solution is shaping the future of Energy Infrastructure with Vehicle-to-Grid Technology. This charger provides bi-directional power conversion with max. 11kW output and 95% peak efficiency for charging/discharging EVs. With compatible EMS (Energy Management Systems), the charger can augment EVs by unlocking the full potential of energy routing and management, making vehicles useful not just for transportation, but also as an energy storage device which can then be drawn as an energy source, forming a virtual power plant to stabilize the grid network.
• Solar Off-Grid Solution for rural electrification: Eltek's Rural Electrification Solution is a truly innovative approach to meeting the needs of remote locations without grid support or with fragile services. Built on a modulated platform, the system can deliver power using multiple 1.2kW modules and 3.2kW solar MPPT charge controllers. Incorporated into one single IP55 cabinet with over 70kWh of storage, this innovation represents the future of electrification for many Australian customers.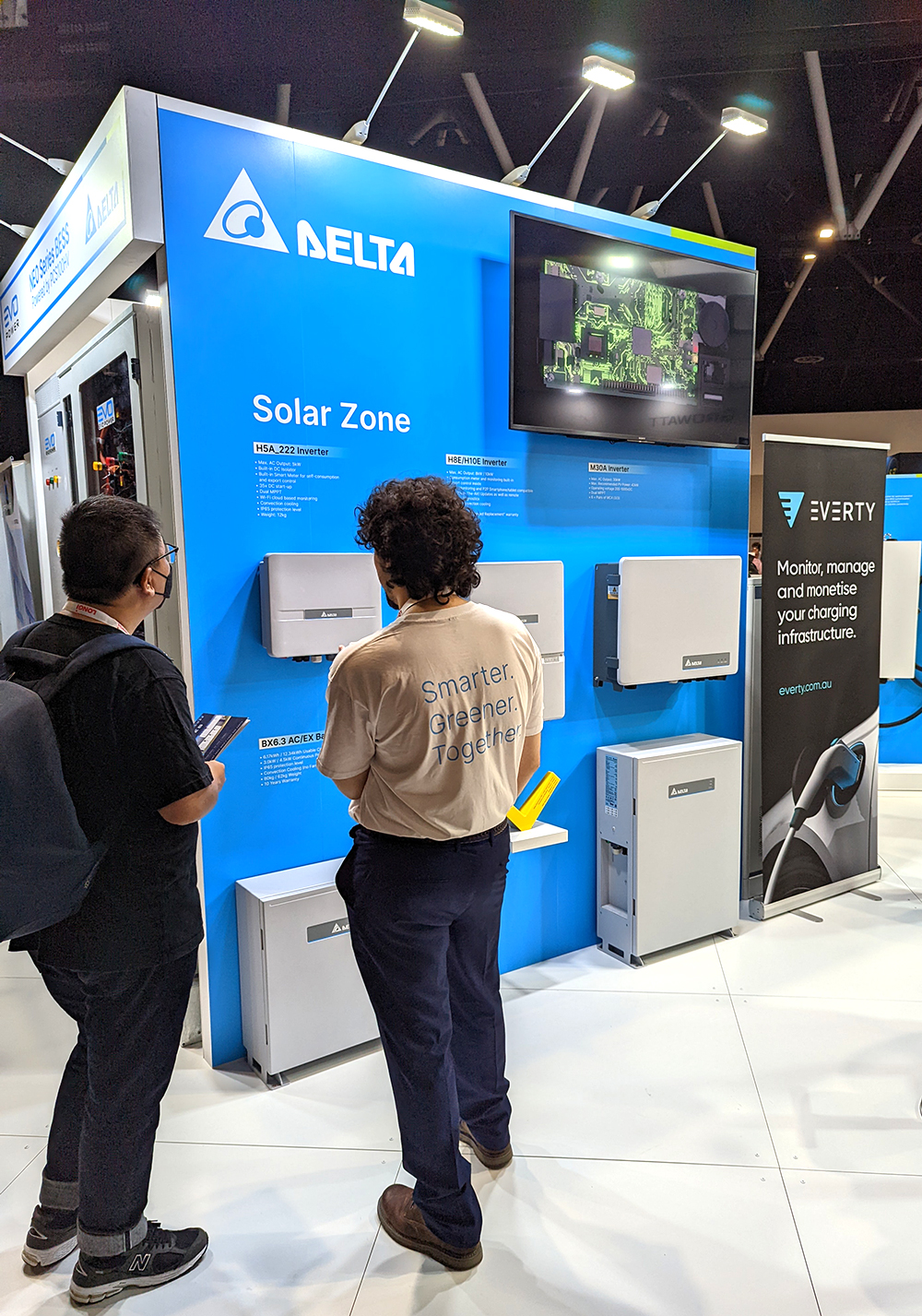 At the Smart Energy Expo, Delta Electronics are also displaying its product range of AC and DC smart chargers for Electric Vehicles (EVs), Photovoltaic Inverters and Batteries, and the Delta Electronics Power Conditioning System as part of the EVO Power NEO Battery Energy Storage Systems system.
Delta's extensive range covers destination and journey chargers; starting from 3kW up to 22 kW AC chargers for home and semi-commercial use, and from 25 kW up to 200 kW fast and ultra-fast DC chargers for use in fleets, fuel sites, and highway charging.
With R&D, manufacturing and sales networks spanning the globe, Delta delivers innovation to support Australian businesses and homeowners go greener and operate smarter every day. Delta's passion for intelligent and energy-efficient solutions that benefit stakeholders underpins the company brand promise: Smarter. Greener. Together.
News Source: Delta Electronics Australia