Bangkok, Thailand, April 1, 2021- Innergie, a brand of Delta Electronics, has launched a new eco-friendly campaign to offer flexible and efficient mobile power products and combat the growing e-waste problem in Thailand.
The new Innergie Trade-In Campaign offers the best way for customers to properly dispose of unused/defective adapters. Participants can simply bring unused/defective adapters to get a discount of up to 500 THB for the Innergie One For All Power Adapter at .life and iStudio by Copperwired. This special campaign will last from March 22 until May 31, 2021, and offers benefits to the environment and customer's mobile lifestyle.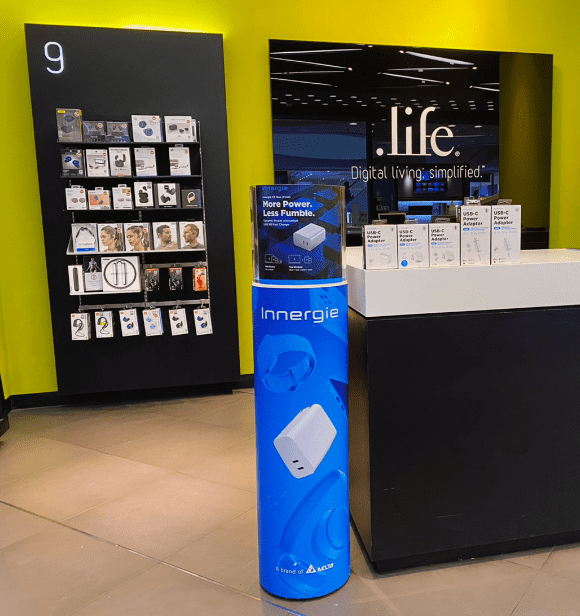 Innergie's campaign also supports customers who shop consciously by offering a One For All series adapter that can be used for every device including laptops, tablets, phones. Innergie enables users to meet all their charging needs with just one high-quality adapter.
As a global leader in power electronics Delta provides "smarter" products and solutions with high efficiency. Mobile power brand Innergie leverages Delta innovation to create a greener and more environment-friendly way of life in Thailand.
Innergie is committed to protecting the earth with our customers and stakeholders. According to Pollution Control Department, the amount of e-waste in Thailand is estimated to be more than 400,000 tons every year and this figure is predicted to increase exponentially every year.
The improper disposal of electronic products or "e-waste" causes damage to the environment because electronic equipment contains toxic contaminants that leave a harmful footprint in our water, land air and even in human bodies.
In the digital era, many users have multiple mobile devices with different types of chargers. Innergie develops multi-purpose chargers with flexible power ranges to reduce the number of chargers customers use.
Choosing the right adapter with Innergie saves users money, space and protects the planet. Innergie works together with customers to deliver on the Delta brand promise: "Smarter. Greener. Together."
More information about this campaign. Please visit: https://th.myinnergie.com/tradein-en
About Innergie
Innergie, a brand of Delta, is a leading provider of consumer power products and power solutions. Launched in 2008, Innergie builds on the innovation of Delta Group, a world leader in power management with over 50 years of advanced technical experience. Its mission statement, "To provide innovative, clean and energy-efficient solutions for a better tomorrow," focuses on addressing key environmental issues such as global climate change. Delta's business categories include Power Electronics, Automation, and Infrastructure.
At Innergie, we understand the importance of power in your everyday life and how it allows you to do more, experience more, and live life fully. We are an innovative international brand dedicated to designing and developing consumer power products and solutions that enable you to experience more of what life has to offer.
Our goal is simple: to keep you powered and connected every day, everywhere. We believe that in today's world, life is best experienced when it's fully charged.
For detailed information about Innergie, please visit: www.myinnergie.com/th
Tel.: +66 (0)2 709 2800 ext. 6386
Email: service-sea@myinnergie.com