Bangkok, Thailand, May 22, 2023- Delta Electronics (Thailand) PCL. was invited by the Industrial Estate Authority of Thailand to join key industry leaders in a special panel discussion about the Future of Thai Industry. The I-EA-T Elevate event held at the Pullman Bangkok King Power in featured speakers from the industrial estate, industrial power and manufacturing industries to share ideas for development in the nation's manufacturing sector.
The first-panel discussion titled "Changing Thai Industry Toward International Standards and Sustainable Models" featured Mr.Vikrom Kromadit, Chairman of Amata Corporation PCL., Ms. Jareeporn Jarukornsakul, Chairman of WHA Corporation PCL., Dr. Harald Link, President of B.Grimm Power PCL. and Asst. Prof. Dr. Veeris Ammarapala, Governor of the IEAT.
The second-panel discussion titled "The Future of Thai Industry" featured Mr. Amorn Sapthaweekul, Vice President, Energy Absolute PCL., Mr. Yongyuth Pakdoungjan, Senior Director, Delta Electronics (Thailand) PCL. and Mr. Banlue Chuenjithawornkul, Director, Murata Electronics (Thailand) Ltd.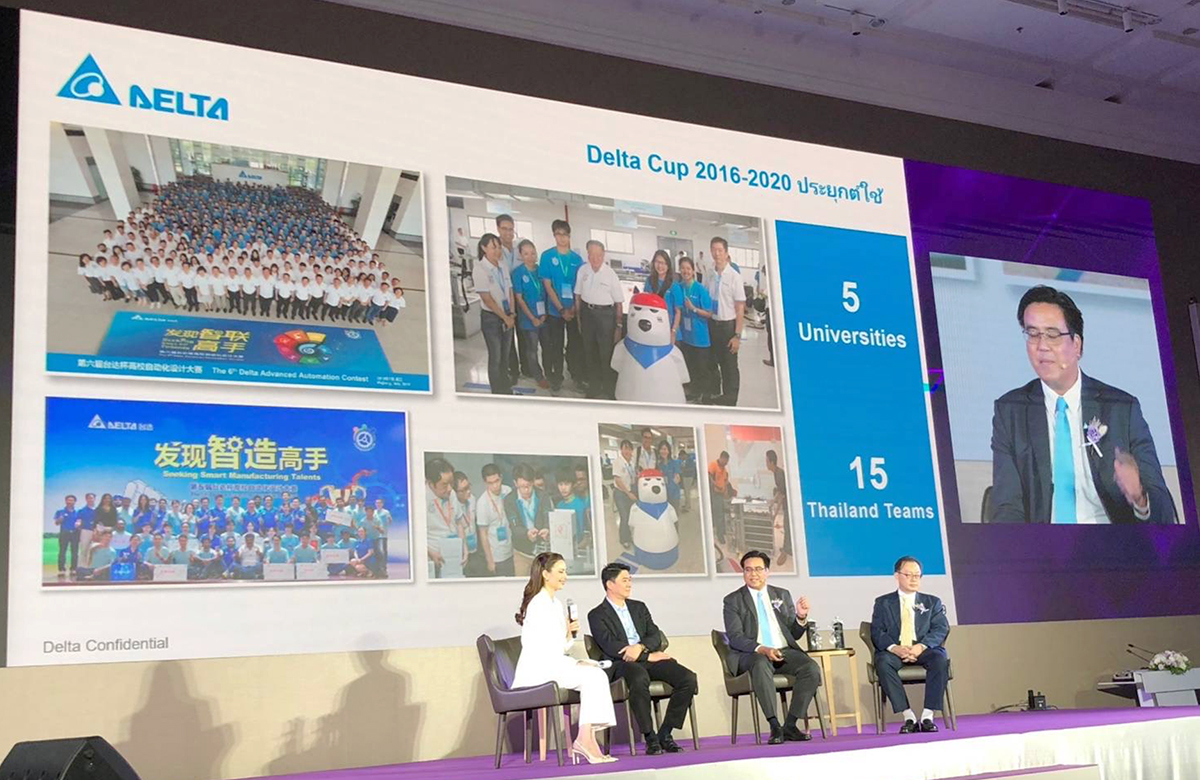 In his talk, Mr. Yongyuth Pakdoungjan presented about Delta Thailand and the expansion of investment in EV parts production at the new Delta Plant 8 and R&D Center. "Talent development is key to solving issues critical to the Future of Thai industry and this is why we work with seven top universities to drive the Delta Automation Academy and increase the local talent pool. In the first phase of this project, we focused on Industrial Automation development by donating the Delta Automation Laboratory to universities and training professors. This led us to launch the Delta Camp and support Thai teams to compete at the international Delta Cup contest."
"In our next phase, we are focusing on Power Electronics to support the development of EV parts production. We will provide the Power Electronics Lab to partner universities like our Automation Labs. To improve Thai entrepreneurs and increase competitiveness, the private sector has work with universities to drive research and development and talent development. The government has to improve rules and regulation resilience to support targeted investment areas and work closely with the private sector and universities to improve green energy regulations in the supply chain," Mr. Yongyuth added.
In 2022, Delta opened its first university Power Electronics Lab at King Mongkut's University of Technology North Bangkok. The Delta Automation Academy includes top universities like Chulalongkorn University, Kasetsart University, King Mongkut's Institute of Technology Ladkrabang and King Mongkut's University of Technology campuses in North Bangkok and in Thonburi, Mahidol University and Burapha University.
As a global corporate citizen, Delta works with top universities in Thailand to develop automation and electrical engineering talent in support of the Thailand 4.0 development goal for smart talent for tech-driven industry. Approximately 3,000 Thai engineering students and over 30 professors have already trained at the Delta Automation Academy and top local student talents have won prizes at the international Delta Advanced Automation Competition held abroad.