Bangkok, Thailand, February 21, 2022 - Delta Electronics (Thailand) PCL. joined hands with the Department of Industrial Promotion (DIP) under the Ministry of Industry and key private sector partners to launch the Angel Fund for Startups 2022. This year, Siam Cement Public Company Limited (SCG) and HUBBA Thailand are joining as corporate partners to offer expert business advice and assess the performance of contestants.
In addition, Media Tank Company Limited, producers of Shark Tank Thailand, will join for the second year to offer winners an opportunity to compete in another season of the business reality show.
Launched as the Delta Angel Fund in 2016 by Delta and the DIP, the fund aims to develop local talent and incubate startups in the innovative industry sector to support the Thailand government's development policies. Until 2021, Delta has provided over 19 million baht of funding to 183 winning teams to support the commercialization of smart industrial and energy-related products in the Thai market. The fund has created startup projects generating outstanding economic value of over 650 million baht.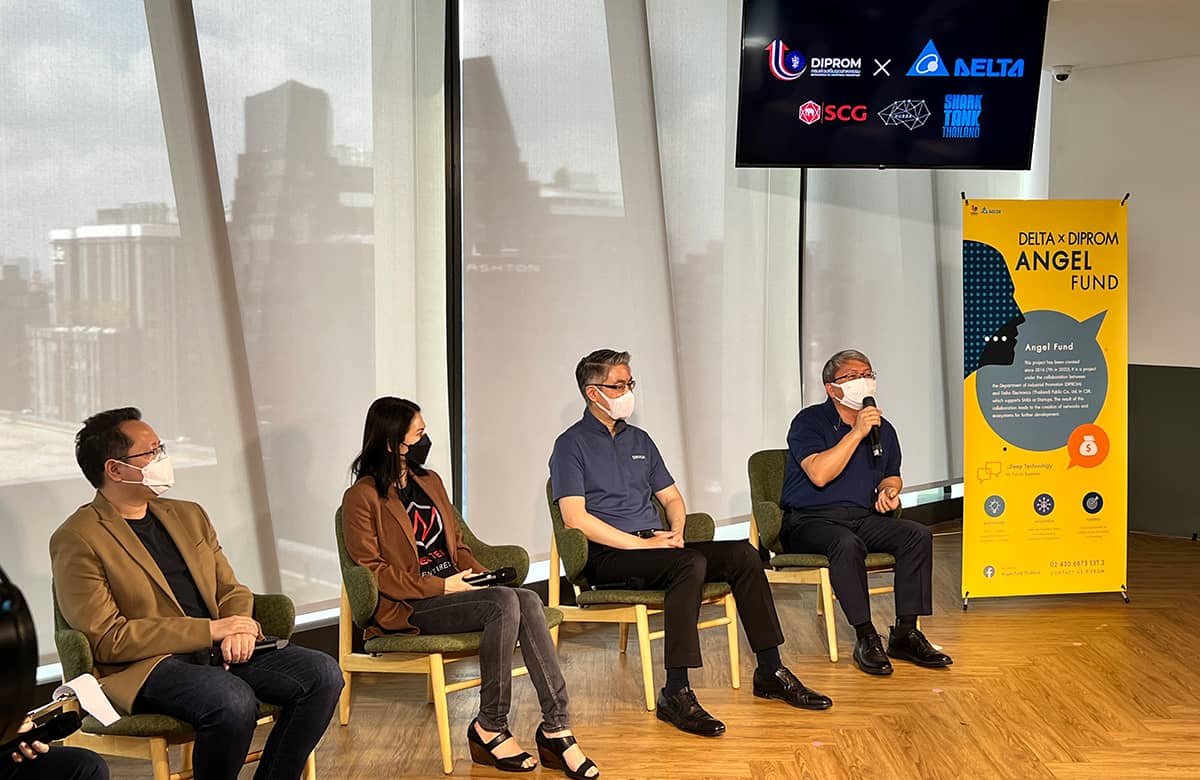 Speaking at the event, Dr. Nattaphol Rangsitphol, DIP Director-General, said, "The DIP will continue to follow the policy of Mr. Suriya Juangroongruangkit, Minister of Industry which aims to transform Thailand into an innovation-driven economy. The Angel Fund helps support entrepreneurs and develop startups while creating opportunities for them to access funding sources and apply their knowledge and skills to commercial enterprises."
Mr. Jackie Chang, Delta Thailand President, said, "Generally, it can take up to 10 years to successfully start a new business and that's why Delta wants to offer support to help local startups accelerate their development. The Angel Fund offers Thai startups not only funds but also business experience and the latest technology. This is just one of the projects Delta does with the Ministry of Industry and our partners to support startups, SMEs and student engineering talent at top Thai universities. Our only motivation is to help Thai society and we take part in all our projects from our hearts without any conditions."
The Angel Fund program links Thai entrepreneurs with government and private sector partners and offers funds and an intensive program for business skill-up and innovation incubation. Program activities include a business boot camp with tutoring in a progressive 6-step model. Contestants prepare and present their business models to an expert judging panel of industry experts, sponsors and investors.

In 2022, the Angel Fund welcomes 45 teams, selected from over 130 applicants. The competition will focus on Deep Technology business concepts and develop practical applications for new technology with completed R&D processes. The technology will cover the following six target industries:
1. Automotive
2. Agriculture and biotechnology
3. Robotics
4. Integrated medicine
5. Intelligent electronics
6. Digitalization
The competing teams will join a seven-day business boot camp to enhance their knowledge and foster an entrepreneurial spirit. In addition, teams will get intensive training in problem-solving skills during a three-day online hackathon before presenting their business models to industry sponsors for funding at the Pitching Day event. Finally, Angel Fund winners also get the chance to compete at the Shark Tank Thailand contest for additional investments.
Entering its seventh year, the Angel Fund by Delta and the DIP has grown to be an inclusive and robust platform to foster local entrepreneurs and startup talent in Thailand. Delta adopts new technologies and digitalization, including online hackathon events, and welcomes partnerships from top brands in Thailand to extend the fund's reach and boost its positive impact on Thai entrepreneurs and society.