Bangkok, Thailand, May 7, 2021– Delta Electronics (Thailand) PCL. donated 110,000 Baht to the Samut Prakan Provincial Public Health Department to assist local hospitals as part of its Delta 50 Year Anniversary CSR campaign. People are at the center of Delta's business and the company celebrates Delta group's important 50 Year milestone with a timely campaign to raise awareness on ways to help others and nurture life amid the pandemic.
With the slogan "Plant a Seed of Hope", the Delta Group 50 Year Anniversary CSR campaign invited the public to participate in a special green CSR campaign that uplifts the local community. Participants could donate any amount to get an organic tree-planting kit, and Delta pledged to double the amount for a combined donation to local hospitals.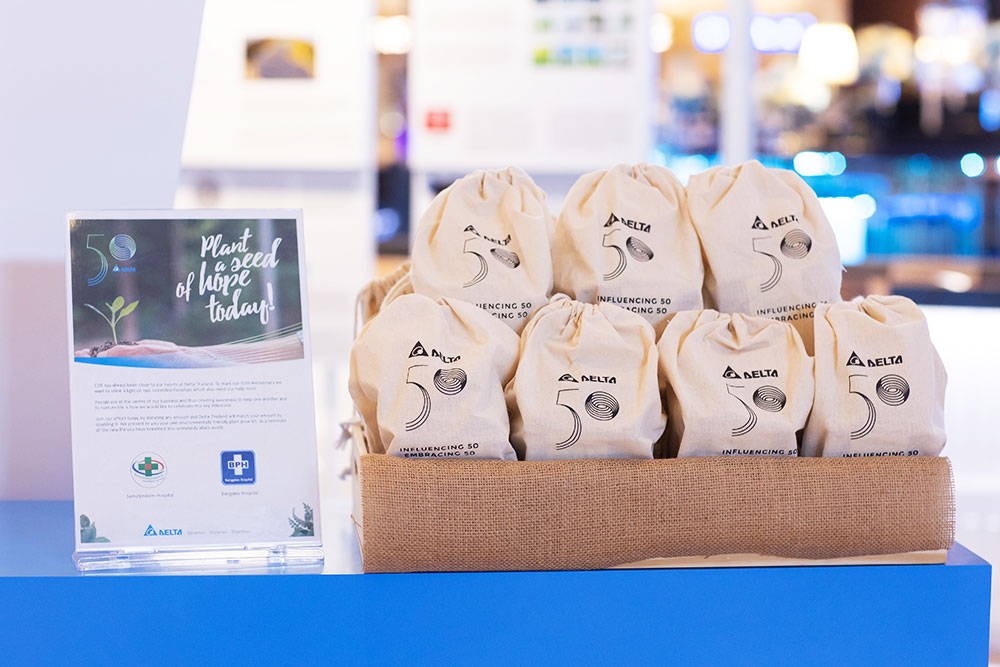 In April, Delta celebrated the 50th anniversary of its parent company, Delta Electronics, Inc., with a one-week gala for friends and partners in Thailand's government agencies, leading companies, and institutions at Siam Paragon, Bangkok. In addition to the launch of Delta's 8K laser projector, the event also highlighted Delta's long-term commitment to sustainability and environmental protection through the company's sustainable development strategy and green solutions.
Guests and the public visiting Delta's event showcase contributed 10,000 Baht in total to the above CSR campaign. Delta exceeded its pledge to double donations received and donated 100,000 Baht from its side to bring the total sum to 110,000 Baht.
As a sustainable company in Thailand, Delta commits to global corporate citizenship and local community building. Delta donated protective face shields for frontline medical personnel and offers funds regularly to the Samutprakan Hospital for COVID-19 protective equipment.