Bangkok, Thailand, October 28, 2022 – Delta Electronics (Thailand) PCL. today hosted Thailand's Ministry of Energy and industrial leader to discuss future-proof green innovations and solutions that support the Thailand 4.0 roadmap and drive the nation towards a sustainable future. The Delta Future Industry Summit 2022: Smart Green Energy for a Resilient and Sustainable Thailand was a platform for Delta partners to network and find solutions while exploring the company's latest solutions in EV charging, Data Center, and Industrial Automation. Delta's showcase shows how its solutions seamlessly fit together as the foundation of Thailand's smart city empowering local businesses and residents with energy-efficiency and smart connectivity.
In his opening address, Mr. Supattanapong Punmeechaow, Deputy Prime Minister and Minister of Energy, said, "The Ministry of Energy is developing the National Energy Plan 2022 that will lower carbon emission in line with our carbon neutrality 2050 target, while maintaining the affordability and security of energy supply. We welcome partnerships with key industry leaders like Delta who demonstrate their commitment to building a Greener and Smarter Thailand, by working with related public and private sectors in the development of solutions, technologies and setting standards and protocols that best suit the needs of local users. Today, we are already seeing Delta contributing to the Thailand 4.0 new S-Curves and sustainable goals, by building many key EV parts and charging infrastructure in Thailand to supply top car brands, as well as pioneering green solutions for buildings and factories by promoting rooftop solar, batteries and energy efficiency technologies."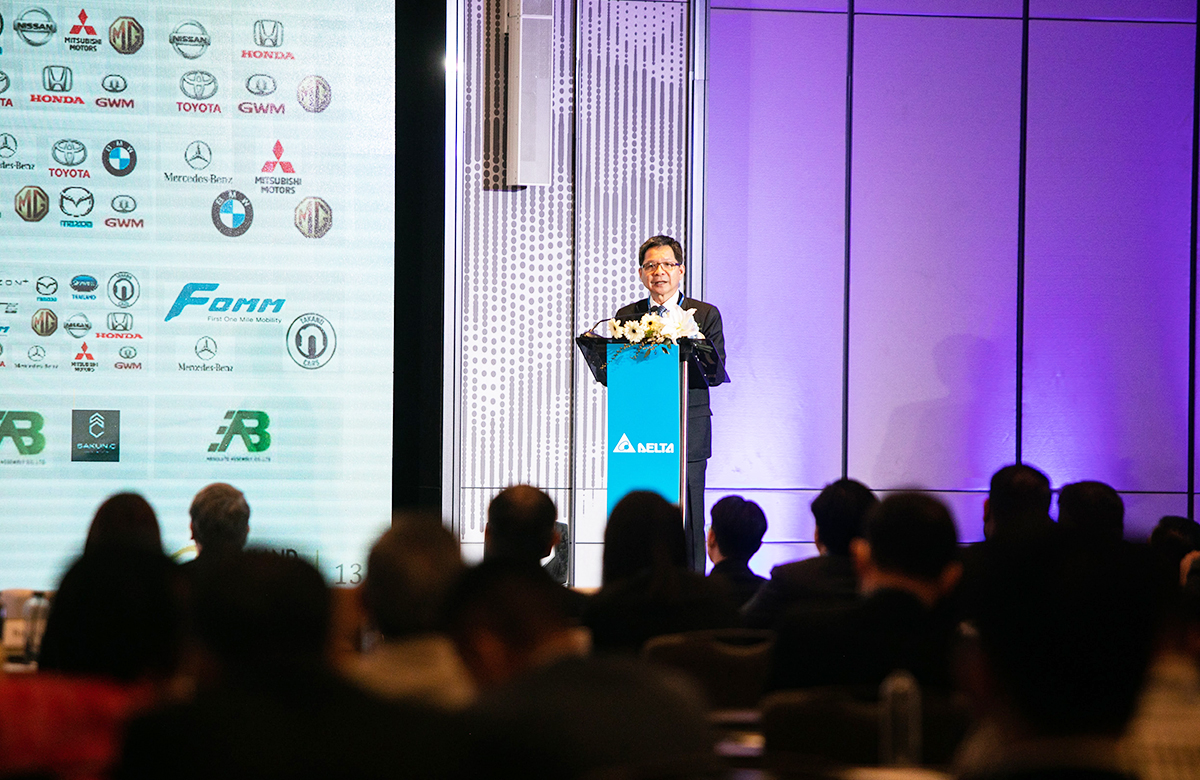 Delta Thailand's President Mr. Jackie Chang said, "As a recognized leader in green innovation and sustainability in Thailand, Delta is designated by the Ministry of Energy as a model green factory operator with two LEED-certified green factories and the country's first net-zero container showroom. Delta manufactures EV parts for global brands and recently launched a 200kW DC ultra-fast charger to support Thai users with reliable, safe and fast charging. We look forward to working with our partners to implement solutions that create a new green economy by driving e-mobility and digital transformation in support of Thailand 4.0 development."
Supporting the government's Energy 4.0 plan to reduce greenhouse gas emissions and reliance on natural gas, Delta highlighted three main solutions to accelerate the nation's Thailand 4.0 ambition:
• EV Infrastructure
According to the Department of Land Transport, Thailand's accumulative registration of battery electric vehicles (BEV), as of August 2022, increased by 146% compared with the previous year. As an EV parts manufacturer and provider of EV charging solutions, Delta has the local engineering and service capabilities to implement a comprehensive EV charging infrastructure solutions that integrate EV chargers like the Delta 22kW AC MAX EV Charger or Delta V2X Bi-directional EV Charger with solar inverters, energy storage systems and the DeltaGrid energy management system. This solution can link with the state grid to offer better reliability and availability for public and commercial charging stations. Delta Thailand has signed MOUs with the MEA, PEA and major car manufacturers for EV charging solutions and recently partnered with PTT for EV ecosystem business development.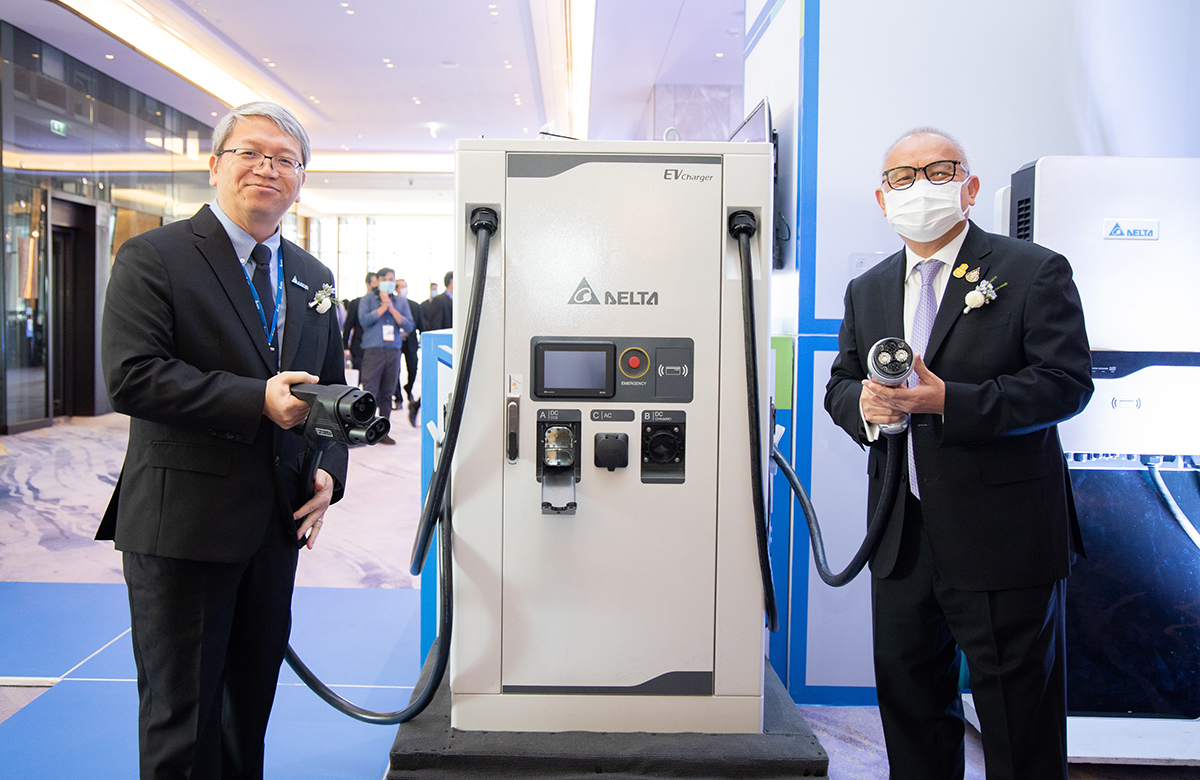 • Data Center Infrastructure
By 2027, Thailand's digital economy is expected to contribute 25% of the country's GDP, requiring data center and 5G telecom infrastructure that reliably and efficiently supports advanced technologies including IoT, cloud computing, blockchain and the metaverse. Delta's energy efficient, modular and scalable Data Center Infrastructure Solutions provide world-class reliability and availability with a seamlessly integrated system architecture that includes 24/7 monitoring capabilities from any location. Delta leverages its leading expertise in power and thermal management to develop original data center power and cooling solutions that offer Thai owners excellent Power Usage Effectiveness (PUE), low carbon footprint and reduced total cost of ownership.
• Automation Infrastructures
Automation plays a critical role in realizing the Thailand 4.0 vision of strengthening competitiveness in the nation's manufacturing sector and local supply chain for high-value production. With over 30 years of robust growth in local R&D and manufacturing in Thailand, Delta's industrial automation solutions and facility management systems offer all the tools for Thai manufacturers to greater efficiency, productivity and quality. At the event, Delta demonstrated how the powerful VTScada visualization platform offers real-time data analysis and simple management to managers for complex operations like environment control in smart farms and flood prevention in industrial estate waterworks. This year, Delta Smart Manufacturing (DSM) won the Prime Minister's Industry Award 2022 in the Potential Industrial award category in recognition of the company's contribution to Thailand 4.0 goals.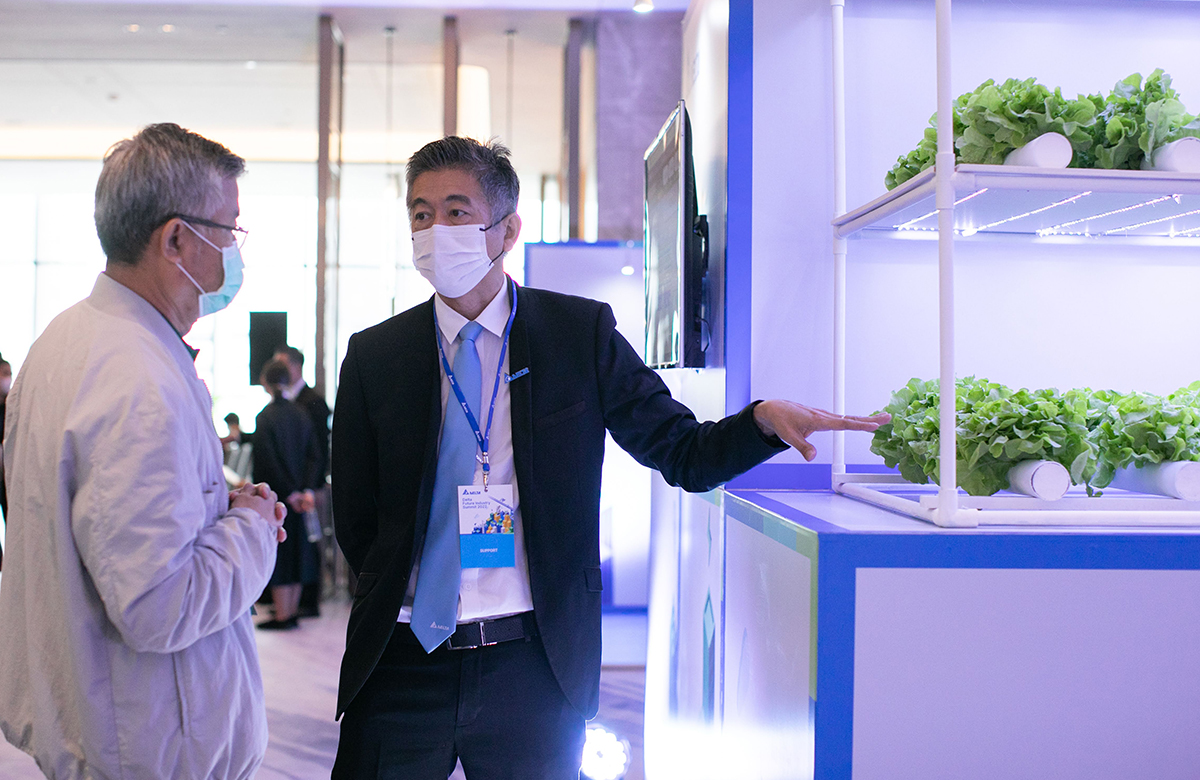 Also discussing Thailand's outlook on a sustainable future and clean energy are several key speakers from the government and leaders from private sectors including: M.L. Chayotid Kridakon, Thai Trade Representative, Mr. Chanin Khaochan, Deputy Secretary General of BOI; Mr. Warit Rattanachuen, Assistant Governor of Electricity Generating Authority of Thailand; Mr. Charn Kulpatnirun, Executive Vice President PTT Group; Mr. Apichet Nuytoom, Vice President Operation of SCG Cleanergy; Dr. Benjamin Chian, Chunghwa Telecom Laboratories; Mr. Jirayut Srupsrisopa, Founder and Group CEO of Bitkub; Mr. Pattrawoot Suesatayasilp, Chief Technology Officer (CTO) of LINEMAN Wongnai.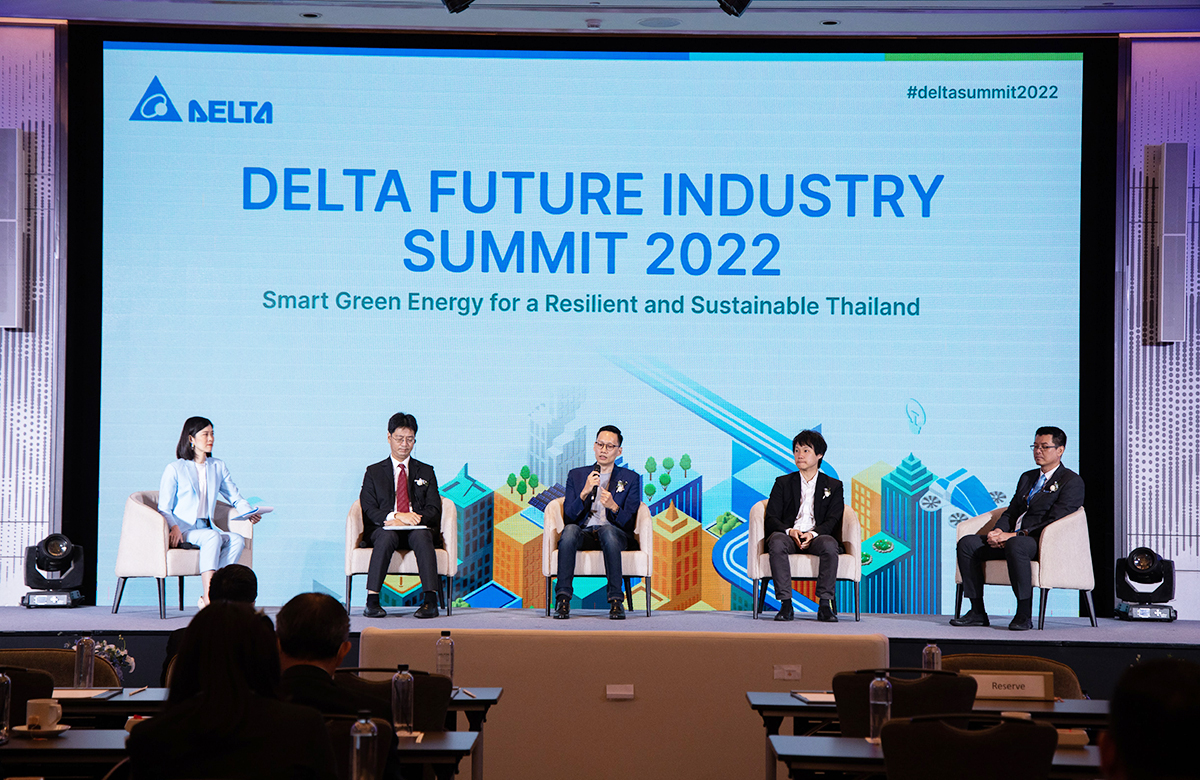 As the largest electronics company listed on the Stock Exchange of Thailand (SET) and a global corporate citizen, Delta Thailand dedicates itself to leveraging its leading energy efficient innovation to build a sustainable future for Thailand and Southeast Asia. Delta welcomes partnerships toward UNSDGs focusing on renewable energy, EV charging infrastructure, data center infrastructure and industrial automation technologies that align with the Thailand 4.0 plan and create a healthy, safe and prosperous Thailand.
Speakers' presentations are available to download here.