Jakarta, Indonesia, June 28, 2022-Delta Electronics Indonesia hosted the Virtual Conference 2022 to bring together industry experts to discuss smart manufacturing opportunities and green digital infrastructure for the country. Delta experts introduced the company's broad and flexible industrial automation product and solution portfolio to boost efficiency and renewable energy solutions for Indonesia.
Over 500 guests attended the first-ever virtual conference by Delta Indonesia, the event invited distinguished guests from the government and industry to discuss with Delta experts how to solve the issues of high energy consumption and high operating costs in Indonesia's manufacturing sector. These discussions shared valuable insights to Indonesia's local manufacturers regarding energy planning and efficiency with the adoption of Industry 4.0 technologies to maximize profitability, accelerate growth and increase asset efficiency.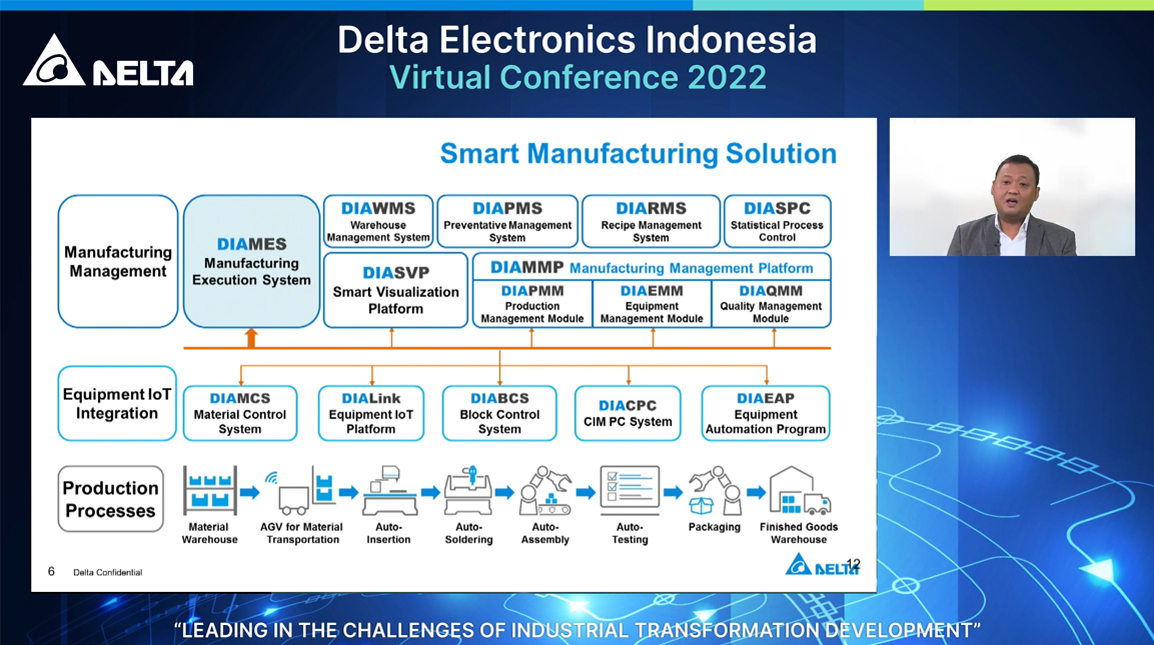 During the first panel discussion titled, The Role of Standardization in Smart Manufacturing, Mr. Heru Kustanto, Head of Optimizing the Utilization of Industrial Technology and Industrial Services Policy at the Minister of Industry, noted Delta's participation in the country's shift to Industry 4.0 and agreed that the implementation of smart factories in Indonesia is an important step to be becoming a top exporting nation by 2030.
Mr. Andreas Hartanta, Delta Indonesia Country Manager of Industrial Automation Business Group, explained how Delta integrates its AC motor drives, AC servo drives, PLC, HMI, machine vision systems and temperature controller products and with energy management and production line visualization and management software.
The second panel discussion titled, Making Solutions with Green Energy, featured Mr. Ir Wanhar, Director of Electricity Program Development at the Directorate General of Electricity. Mr. Yudie Soeryadharma, Delta Indonesia Business Development Manager of Energy Infrastructure and Renewable Energy, talked about Delta's range of PV inverters for factories and buildings as well as EV charging solutions for clean e-mobility.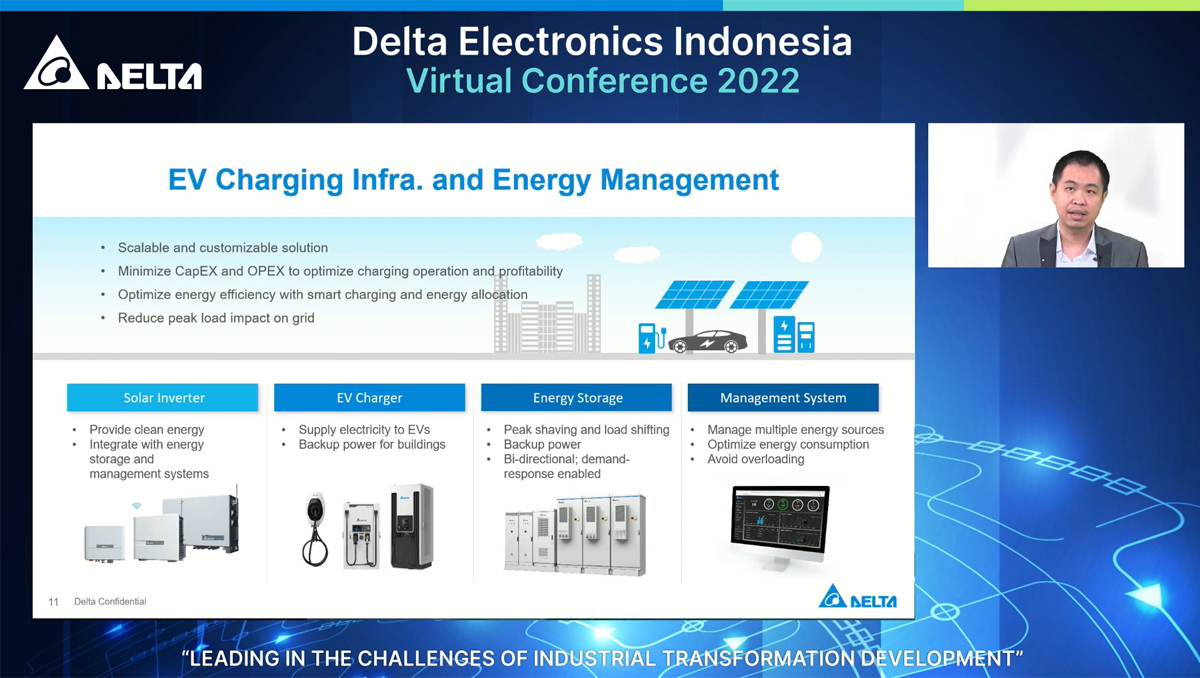 The strong interest in Industry 4.0 solutions and Delta's offerings made the event a great success. Many participants were surprised to discover the extent of Delta's broad range of solutions to bring make smart factories. Participation in Q&A was high and Delta's e-mobility solutions including EV charging and battery energy storage attracted the most attention as a timely solution to Indonesia's 2060 RE100 target. Currently, Delta is a dominant player in Indonesia's EV charging market with major customers in both the public and private sectors.
As a regional industrial automation and renewable energy solutions provider, Delta offers both product and integrated hardware/software solutions to support customers in factory digitalization transformation. Delta's DC and AC EV charging solutions lead the Indonesia market in terms of technology and support customers across Southeast Asia and help it deliver on its brand promise: Smarter. Greener. Together.
Virtual Conference Recording: https://youtu.be/6Bnrj6_uQTY