Bangkok, Thailand, December 22, 2020– Delta Electronics (Thailand) PCL. received the Thaipat Institute Sustainability Disclosure Award 2020 for the third consecutive year in recognition of its excellent public disclosure of company performances and coverage of its Environmental, Social and Governance (ESG) aspects in the Delta Thailand Sustainability Report.
Ms. Aonthip Aorthong, Delta Sustainable Development Manager, represented Delta to receive the award from the Thaipat Institute. Delta was among 96 listed companies and business organizations in Thailand awarded the Sustainability Disclosure Award 2020.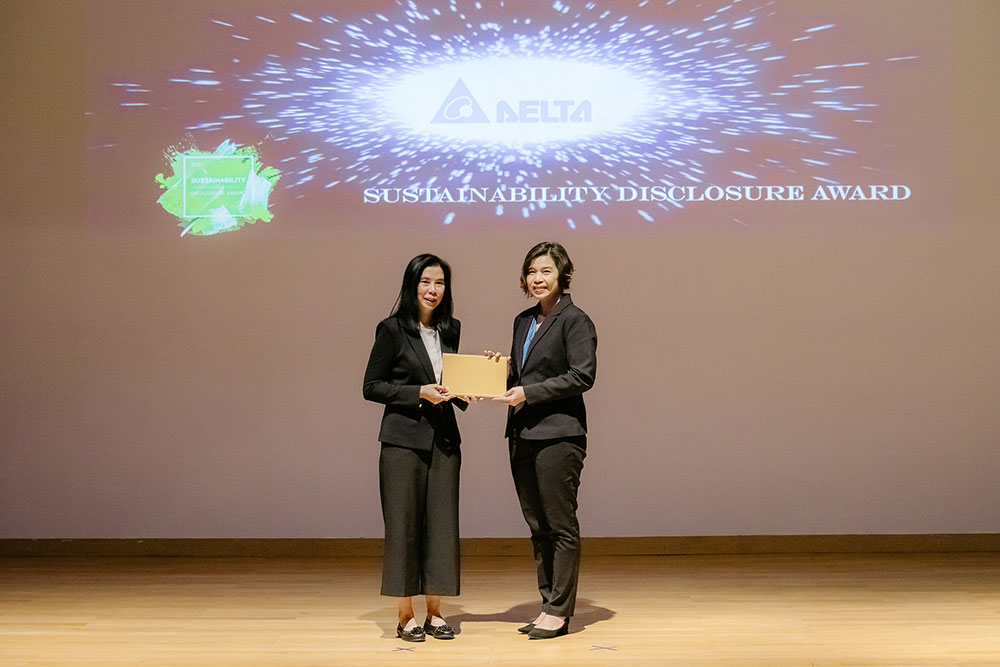 This year's Sustainability Disclosure Award comprises 34 Sustainability Disclosure Awards, 42 Sustainability Disclosure Recognition Awards and 20 Sustainability Disclosure Acknowledgement Awards.
The criteria for the Sustainability Disclosure referenced from Ceres-ACCA * are: integrity. (Completeness) of content, weight, 45% score on reliability. (Credibility) of content weight 35% score in communication and presentation. (Communication) content weight of score 20%, respectively.
The Thaipat Institute's Sustainability Disclosure Community (SDC) aims to help organizations in Thailand raise their level of sustainability disclosure. This includes organizational development for long-term sustainability and responding to both SDG targets and UN Sustainable Development Goals (UNSDG).
As a sustainability-focused listed company in Thailand, Delta adds value to stakeholders with ethical business practices and energy-efficient innovation. Delta commits to global corporate citizenship, including the UN SDGs and leading Thai sustainability initiatives that help it deliver on the brand promise: Smarter. Greener. Together.
TAGS:#award