Bangkok, Thailand, January 27, 2021- In December last year, Delta signed an MOU with the Provincial Electricity Authority (PEA) and Mitsubishi Motors Thailand for cooperation between the three parties in Electric Vehicles (EV), EV charging stations and the PEA's mobile application for EV charging.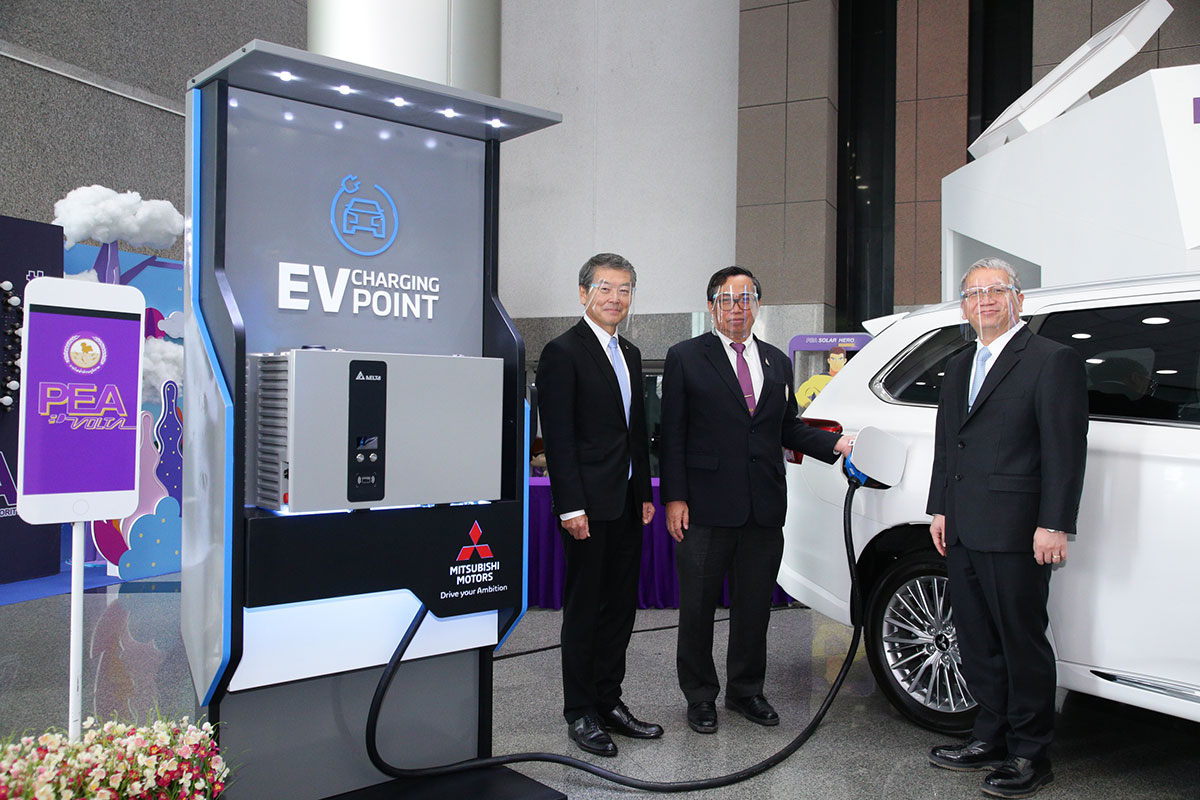 This landmark three-way partnership coincides with Mitsubishi Motors Thailand's launch of the world's first Plug-in-Hybrid SUV and best-selling PHEV- the Mitsubishi Outlander PHEV. Delta proudly supported the launch of this exciting new EV at the Thailand International Motor Expo 2020 and we're now busy installing both AC and DC chargers at Mitsubishi Motors Thailand's dealerships across the country for customers to use.
So if you're thinking to electrify your driving experience and help fight the lung-killing smog shrouding our cities, you can check out the different types of EVs available in Thailand and see what kinds of charging you'll need. Let's take a quick look at:
• Key differences between HEV, PHEV and BEV
• Charging for different EV types
• Delta EV chargers are Thailand's natural choice
Key differences between HEV, PHEV and BEV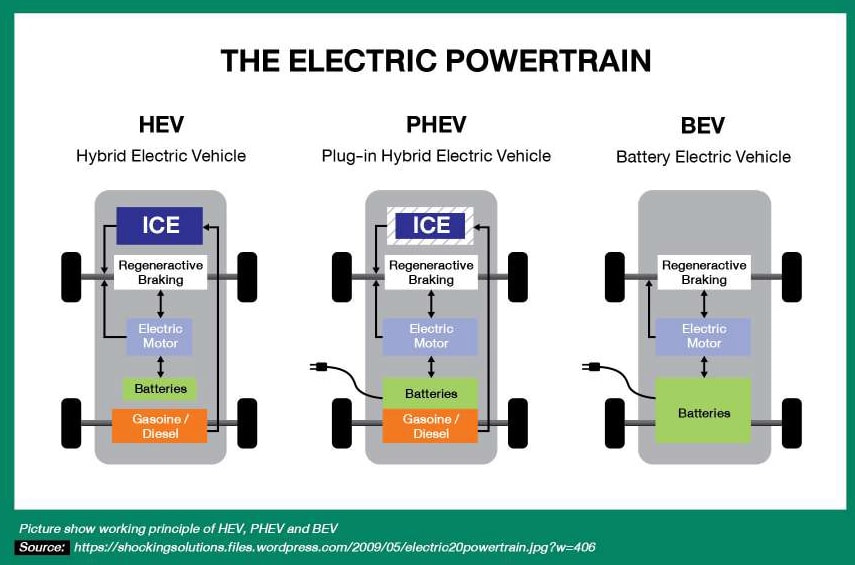 Source: Thailand Automotive Institute (TAI)
Today we'll look at three main types of EVs: Hybrid Electric Vehicle (HEV), Plug-in Hybrid Vehicle (PHEV) and Battery Electric Vehicle (BEV) that we can see compared in the above image.
HEVs use an Internal Combustion Engine (ICE) like regular gas cars, but they also have an electric motor and a small battery. Electric power from braking is stored in the battery to help drive the HEV while overtaking or during acceleration. HEVs are a popular "eco-friendly" option because they somewhat reduce pollution and CO2 and offer better fuel economy than ICE cars.
PHEVs have plugin option for an external charger and has a larger battery than the HEV which gives it more power to run its electric motor. These EVs are gaining in popularity because you can drive 100% electric for short distances on the battery before switching to the gas engine, offering you much better fuel economy with a lot less pollution and CO2 than HEVs. PHEVs are for drivers who are more serious about "going green" but don't want to worry about running out of battery.
BEVs plugin for charging just like PHEVs but they get power only from the battery. BEVs are popular in Europe, Japan and the US but are taking off among Thai green enthusiasts who can overcome "range anxiety" to enjoy zero-emissions driving without pollution or CO2.
Charging for different EV types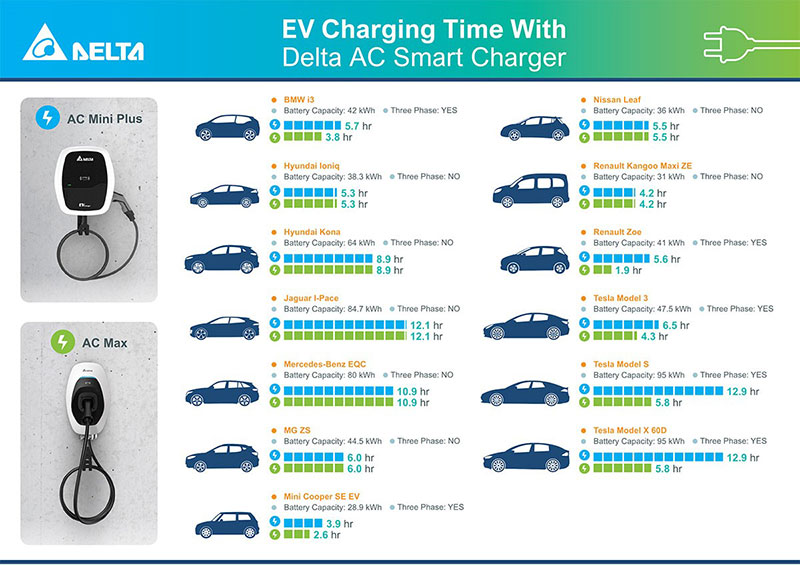 Estimated charging times for popular EVs with Delta AC chargers
(Charging times may vary depending on specific car model/edition and charging conditions)
In an earlier article we covered the differences between AC and DC charging in terms of power, speed and station location. We also covered charging modes available for drivers in Thailand. Whether you choose a PHEV or BEV, you'll probably do most of your charging with AC chargers at home or work. According to the International Energy Agency's Global EV Outlook 2020, by 2019, there were about 7.3 million chargers worldwide, of which about 6.5 million were private, light-duty vehicle slow chargers in homes, multi-dwelling buildings and workplaces.
Daily AC charging isn't just more convenient, it's also cost effective. A Thailand Automotive Institute report states that BEV home charging in Thailand costs only about 0.5-1.0 Thai Baht per kilometer. Of course, you must pay more to do quick charging at a public station and so most BEV owners charge daily at home or at work and only stop for a short quick charge when they are low on battery.
In Thailand, you can easily find a public charging station with the MEA or PEA EV charging apps. Delta has signed MOUs with both of Thailand's state electricity companies and with top EV manufacturers so you can find our global qualified DC quick chargers or AC charger at your dealership (if you own a Nissan LEAF BEV or a Mitsubishi Outlander PHEV), gas stations, shopping centers and other public locations.
Delta EV chargers are Thailand's natural choice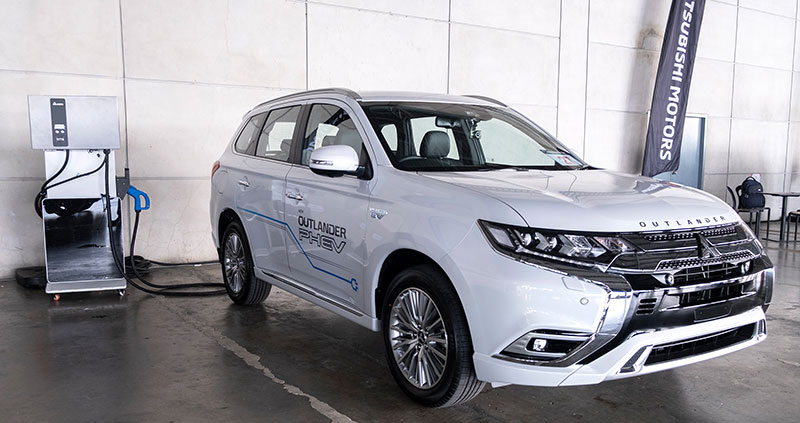 In a 2019 article, we made the bold claim that Delta EV chargers are the natural choice for Thailand. And as more and more EV manufacturers choose Delta over other top global EV charger manufacturers, state electricity partners give their backing and nationwide projects gain momentum we believe Delta is the premium solution for Thai EV drivers who prioritize safety, reliability and convenience in their charging experience at home and on the roads.
Delta offers you a much more accurate and personalized service than a sales office or an online store could. Our local experts have training by top global EV manufacturer partners and our electricity partners in both EV battery and charging and national grid electrical systems. Besides the excellent local service and warranty for our chargers, Delta is unique in offering a turnkey solution in Thailand that handles all your installation and service necessary to build up a charging station from scratch.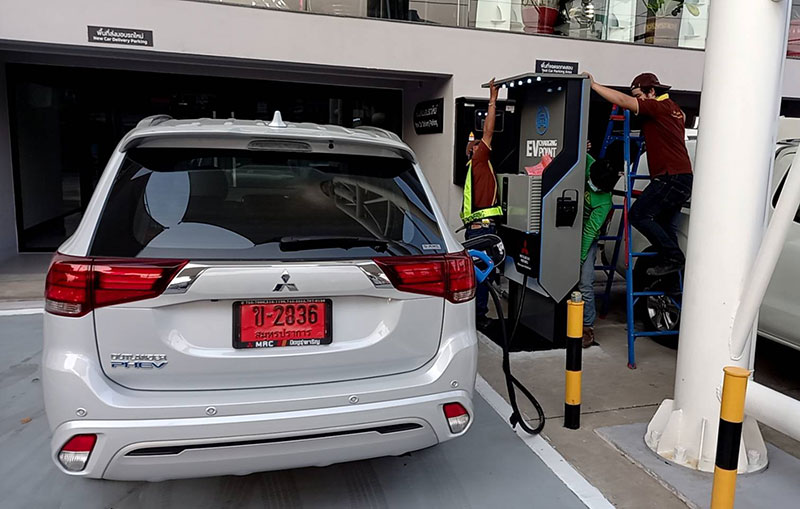 To get started just simply contact our local experts for an on-site survey and installation of an AC EV charging station. Delta AC chargers have easier load settings at 6 A, 16 A, 20 A and 32 A to match the electricity meter rating of your home. Our AC Mini Plus EV Charger (7.36kW) is a brilliant choice for overnight charging, and our new AC MAX (22kW) is a smart AC charger that's perfect for sharing with workmates at the office.
If you operate a charging station, we can be your partner to supply both the AC MAX and modular and future-proof DC chargers that you can upgrade over time to match your customer's needs and your business growth. As a pioneer of EV fast charging in Southeast Asia, you can depend on us to provide you with the latest solutions available in the market.
Want to know more?
Check out Delta's EV charging portfolio or watch this video that explains how EV charging works.
Contact our Thai sales at: ev.det@deltaww.com or call +662 709 2800#5808