Bangkok, Thailand, May 21, 2020- COVID-19 was a wake-up call for every business in Thailand and Southeast Asia, reminding us just how important it is to embrace digital transformation today and jump with both feet into the Industry of Things (IoT) era. If we want to thrive in the "new normal", we must switch to the latest tools now.
The IoT for smart cities and Industrial IoT (IIoT) is coming much sooner than we expected. In fact, the author of a recent Forbes article predicts manufacturing will experience five years of innovation in cloud data adoption and automation in the next 18 months because of COVID-19. So the question is: Are you ready to rebound with digitization, or will your business to fade into the doom of obsolescence?
The advantages and limitations of Cloud Computing
Source: Gartner
In recent years, the IT industry has been promoting cloud computing architectures to keep pace with the rapid development of data. This architecture connects all the IoT devices on the street, building or shop floor to the network and uploads collected data to the cloud through an internal gateway. Because of the popularity of cloud computing, there are several major cloud service providers on the market which you can use to avoid building your own large-scale IT infrastructure. The vendor provide you with a variety of added services as your business grows or diversifies.
However, leveraging cloud computing and IoT in your business will lead to a spike in data volume which poses many additional challenges. For example, you may want to use crowd control technology to manage social distancing and prevent COVID-19. This smart surveillance system leverages video processing software to counts the number of people or detect time spent in an area of your shop, office or factory. But we can't do such advanced video processing at the cloud because the on-site video signal needs very high bandwidth. So the best solution is to do the computing and process video data at the edge before the cloud. Then from the edge, you can send alarms or other more critical information to the cloud for further action.
As you can see, the enormous data volume or "big data" involved in IoT applications means cloud computing can't always meet the needs of your digitized enterprise. That's why the IT industry proposes the new infrastructure architecture: edge computing.
What is edge computing, and why do we need it?
Source: Gartner
The basic concept of edge computing is to process data between the gateway and the cloud. Data first enters "the edge" for simple analysis, which lessens the impact and load of big data on the cloud. Data requiring in-depth processing goes forward to the cloud, where we can perform analysis for further insights.

Edge computing's data pre-processing also solves the problem of latency and bandwidth limitations. Devices that require immediate feedback, like self-driving cars or production lines in smart factories, can use edge computing for real-time control and get quick responses to dynamic environment conditions.
For example, smart cities can have thousands of smart poles displaying personalized digital content by integrating with CCTV and capturing audience information which it uses to study human intent or attraction to the displayed content. Smart pole cameras can track viewers and analyze their age, gender and activity times and inform the cloud for further data engineering or deep learning via big data analytics. But to run smoothly, this entire process requires edge computing to pre-process a lot of the data and reduce required bandwidth before data goes to the cloud.
Edge computing infrastructure considerations


Although edge computing solves some cloud computing challenges, we still need to build a lot more edge data centers to deploy this technology. Edge computing requires machine learning chips, high performance servers or hyper converged infrastructure with high power consumption. Footprint and space allowance for edge data centers is usually limited, especially for collocation users where space means money. So demand for high power density is increasing.
Therefore, we should think about designing and building a resilient edge data center with limited resources, right from the planning stage. Then as your business expands, you can quickly deploy modular additions to meet the needs of your growing business. And when you deploy many edge data centers, it's important to think about how to accelerate the return on investment (ROI) while reducing CAPEX and OPEX.
Creating a resilient edge data center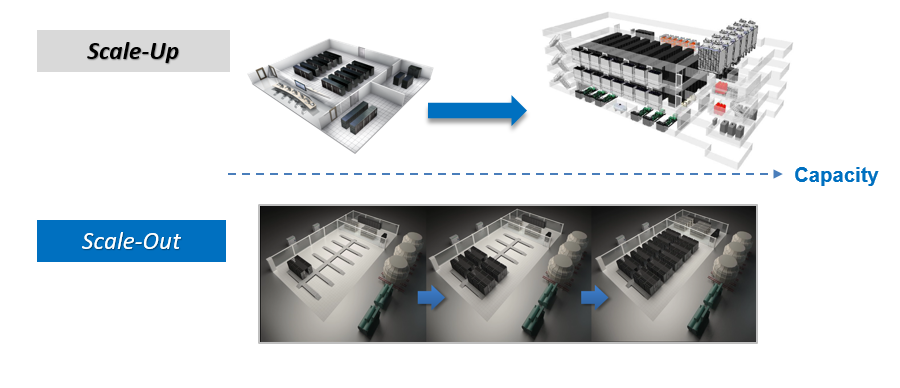 Edge data center resilience means you can save on your initial investment and get a scale of expansion at the lowest cost. You can expand your data center capacity by either scaling up vertically or scaling out horizontally.
We also can consider modularity as a key enabler for scalability. If we have different modules or elements that integrate, we can easily expand our data centers in any direction as needed just like building a tower by stacking blocks. Delta's power solutions are a superb example of using a modular design for maximum efficiency. From power module to power skid, for any power capacity requirement, we help you scale out in perfectly efficient configurations.
What Delta edge data center solutions are available in Thailand?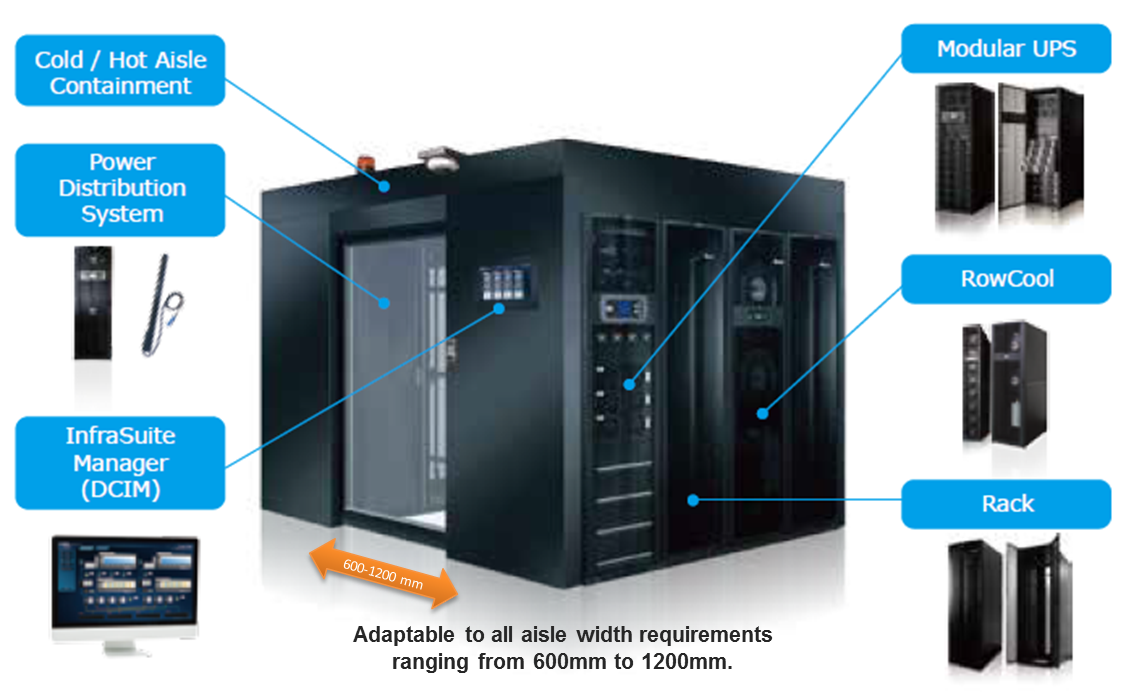 Whether you're looking for an indoor or outdoor solution, the first step is to contact our team of local data center experts for an on-site survey and consultation. We'll work together with you to find the best solution for your needs and growth vision.
For indoor applications, Delta has single rack micro data centers in several sizes, single row micro data centers (2-6 racks each) and the Point of Delivery (POD) data center solution (6-20 racks). This year, our POD solution won the TIER III Ready Award from the Uptime Institute, a prominent advisory organization for the global IT industry.
Each Delta micro data center contains air conditioning, power distribution, a UPS, system monitoring and a cabinet for IT components like network, storage and server parts. And you can easily arrange devices in various configuration in the rack and pair it with modular power, cooling or even protect it with an IP55 enclosure with attached condensing units.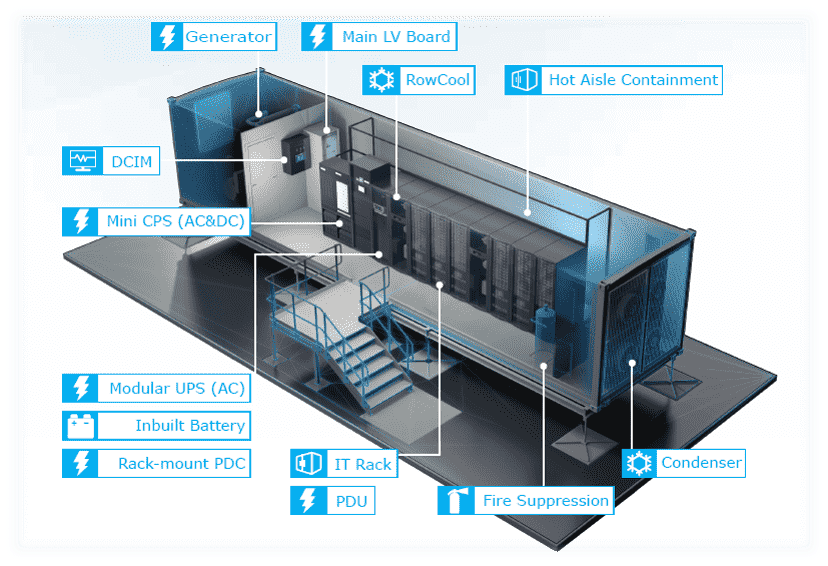 For outdoor applications, Delta has both single rack and dual rack data centers and containerized data centers. You can use our prefabricated containerized data centers as either an all-in-one solution or a modular addition to a large-scale data center.
Whether you're in the transportation, hospital, retail, IT or the telecom industry, Delta's containerized data centers fulfill the goal of standardization which makes mass production and rapid deployment possible for both edge and collocation data centers.
So if you're ready to join the edge computing revolution, you can learn more about Delta's data center solutions or watch this video on Delta's award-winning POD solution.
Contact our Thai experts today at: info.dgit@deltaww.com or call +662 709 2800 #5801