Bangkok, Thailand, September 18, 2019- Global warming and rapid urbanization is driving us to seek sustainable solutions while reducing the negative impact of our offices and factories on the environment. In Thailand, Delta takes a regional leadership role in green factory development, winning the 1st Runner Up for the ASEAN Energy Award 2019 in the Green Building category.
The ASEAN Energy Award 2019 recognizes Delta's innovative use of our own solutions to create the first factory in Thailand with the LEED (Leadership in Energy and Environmental Design) certification in the EBOM (Existing Buildings: Operations and Maintenance) category. At Delta Thailand's green headquarters, we save energy and reduce our carbon footprint every day by leveraging solutions in renewable energy, automation, DC motor ventilation, smart HVAC and environment management.
The U.S. Green Building Council (USGBC), one of the most recognized green building certification programs in the world, awarded Delta Thailand headquarters with the LEED- EBOM Gold certification after our year-long renovation project that included evaluation, data collection, construction, equipment installation and initiatives to improve energy-management and environment conditions to meet LEED Green Building criteria.
As we celebrate the latest victory in our quest to save the planet, we invite you to join us on a two-part study of how Delta leveraged energy-saving and renewable energy generation to transform its aging headquarters into a vibrant, efficient and sustainable hub for our stakeholders to enjoy.
Energy Efficient Building Design
Built in 1999, Delta's Thailand headquarters is a production and export management center for the company's global locations. It faces northeast to avoid direct exposure to sunlight and allow good wind passage which lowers the air temperature around the exterior.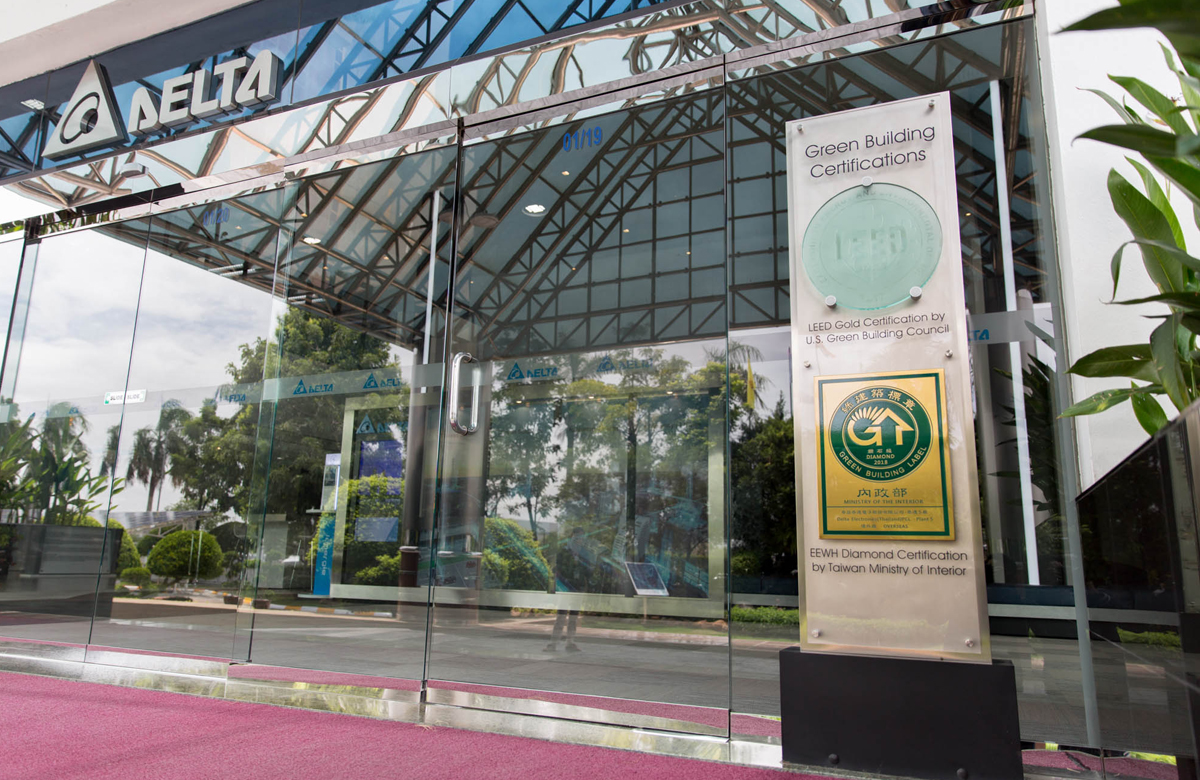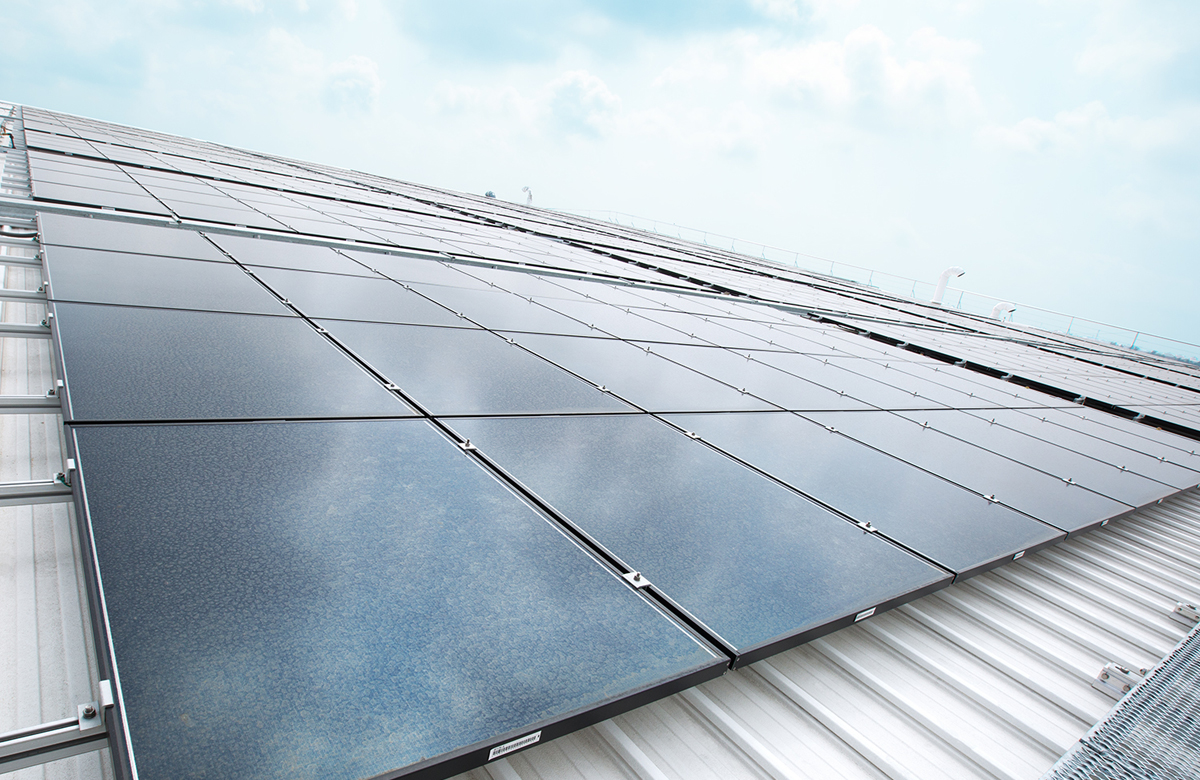 The building walls are concrete block brick with plaster and heat-insulating film. Throughout the exterior and building envelope, 6 mm thick transparent float glass lets in natural light from outside and reduces energy consumption from lighting systems.

The roof is concrete and metal sheeting with 2-inch thick insulation. A white coating with a 94.3% Solar Reflective Index (SRI), higher than the LEED standard, and a solar panel array on the rooftop both generates power for internal use and reduces heat entering the interior.
We use green label standard paint, low volatile organic substance (VOC) and free from lead and mercury, on the exterior walls to mitigate the negative impact on the environment.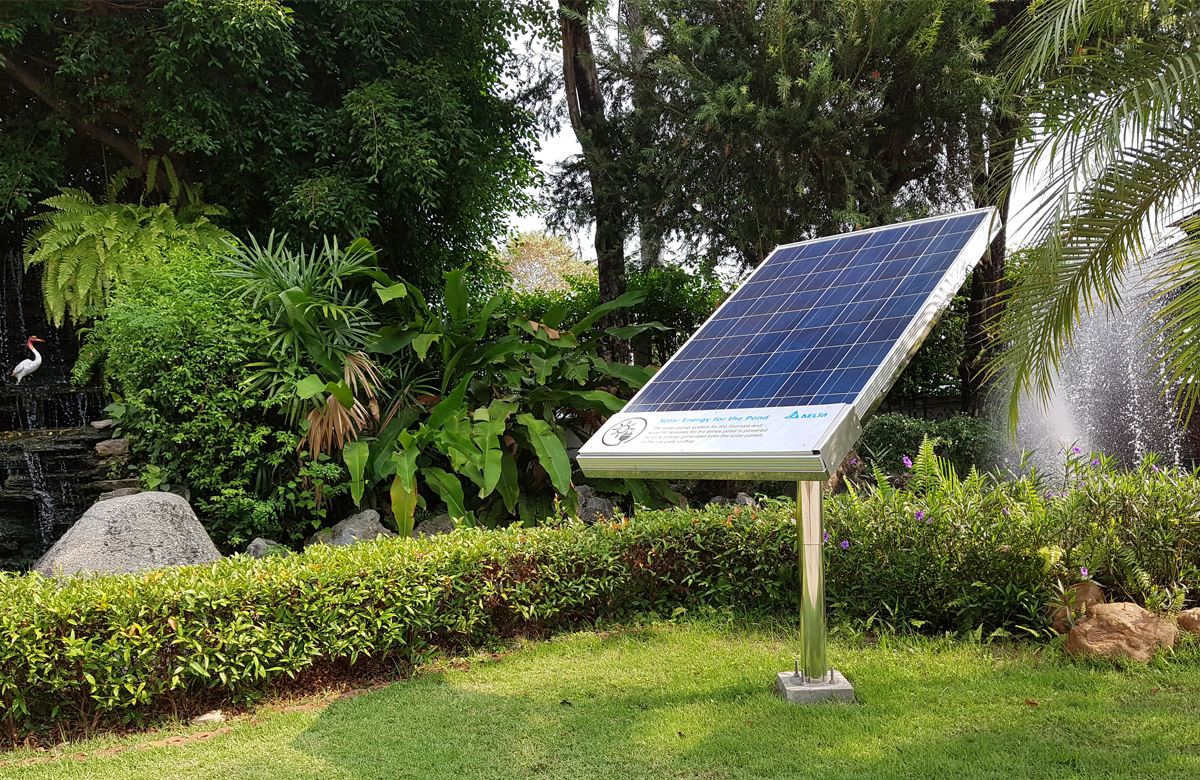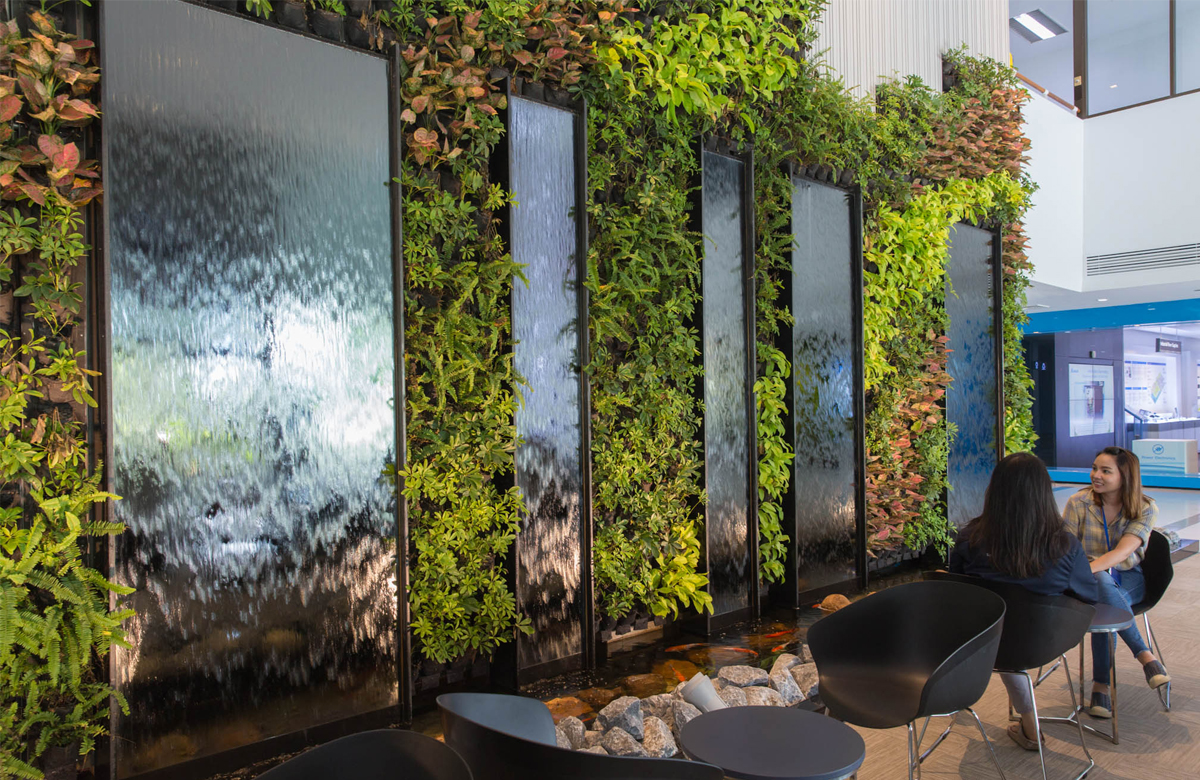 Trees of various sizes around our building help reduce ground heat and offer shade for the exterior walls. Inside, light-colored walls, curtains and blinds help to further reduce heat absorption. In addition, the lobby's vertical gardens and indoor pond offer a habitat for koi fish and create an indoor oasis for our employees and visitors to relax.
All these passive design features help Delta Thailand headquarters keep its Overall Thermal Transfer Value (OTTV) level and Roof Thermal Transfer Value (RTTV) at only 21.7 W/m2, and 6.4 W/m2 respectively.
Energy Saving Lighting and HVAC
The Delta Thailand headquarters design maximizes natural light usage to replace energy-consuming lighting systems in many spaces including stairways, walkways, meeting rooms, offices and clinic rooms.
To increase lighting energy efficiency, we replaced 36 W fluorescent lamps with 18 W LED lamps throughout the building, improving luminosity to 9.1 W/m2. We also installed timers in various areas and motion sensors in the walkways to control on/off times and further save power.
Thailand's year-round hot climate makes it critical to improve the energy efficiency of our Air-Conditioning System and reduce operational energy loss. For this, Delta installed a Magnetic Bearing Oil-Free Chiller that can lower maintenance costs and offer better performance at low cooling load. In addition, we replaced our old air conditioners in meeting rooms with nine new sets of energy-saving Split Type Air Conditioners.
Renewable Energy
Harnessing Thailand's abundant solar energy helps us save on energy costs and reduce 2,722 tons of CO₂ from our carbon footprint every year. Delta's 3.2 MWp capacity solar rooftop system can generate 4,677,548 kWh in electricity per year for 100% internal use.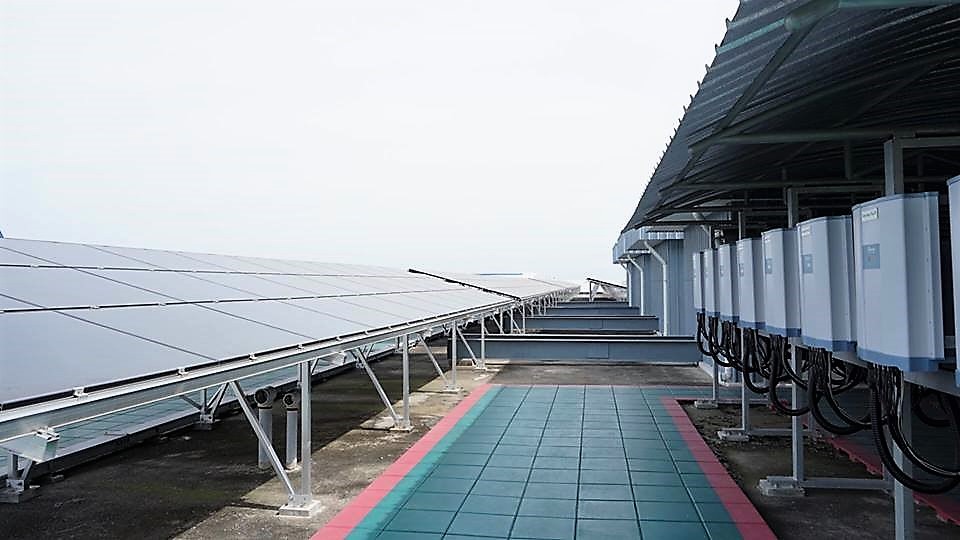 For our solar rooftop installation, we selected Thin Film solar panels for high efficiency in high temperature and low sunlight conditions i.e. cloudy or rainy conditions. The solar panel array consists of 18,347 panels connected to 62 Delta 50kW RPI M50A inverters.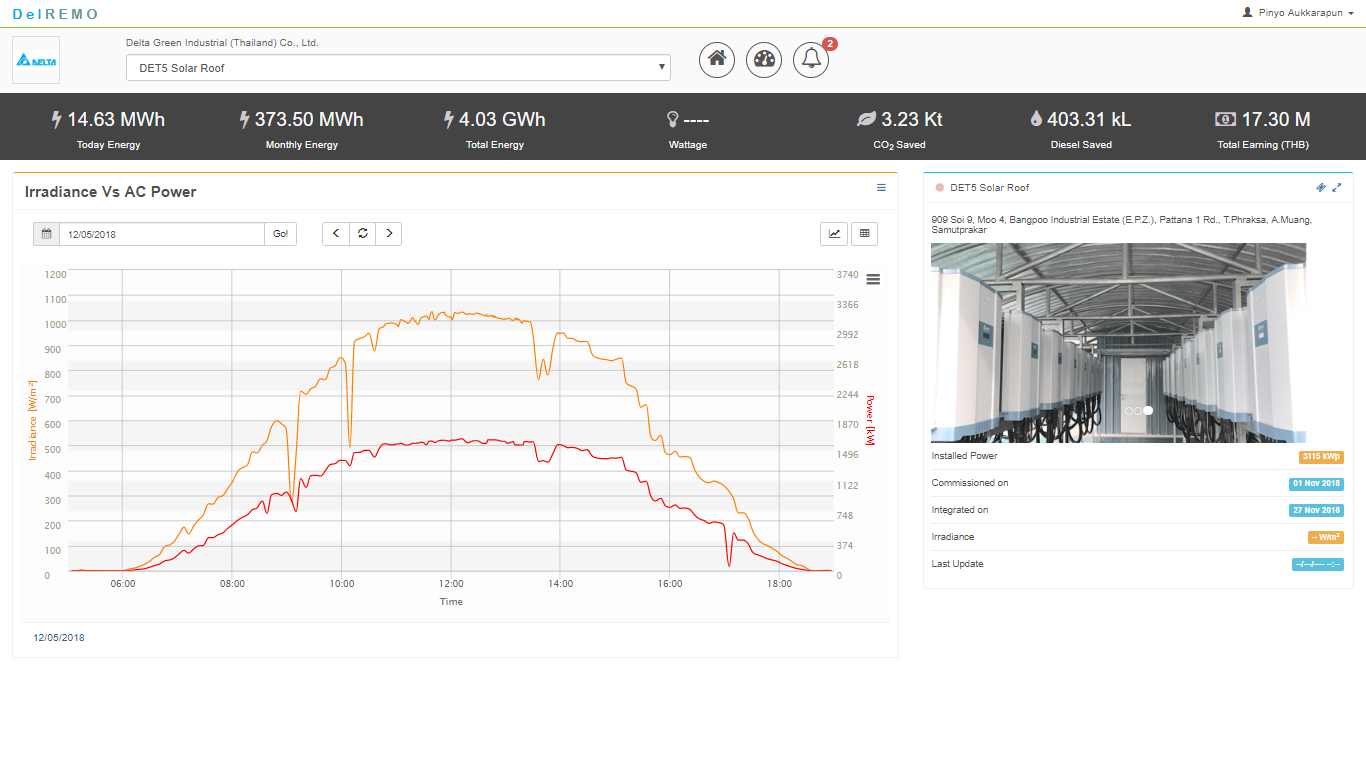 Our solar energy system also connects to Delta's original DeIREMO management software where managers can easily analyze and do real-time monitoring of renewable energy generation and consumption.
Energy Efficiency at the Heart of Delta's Green Buildings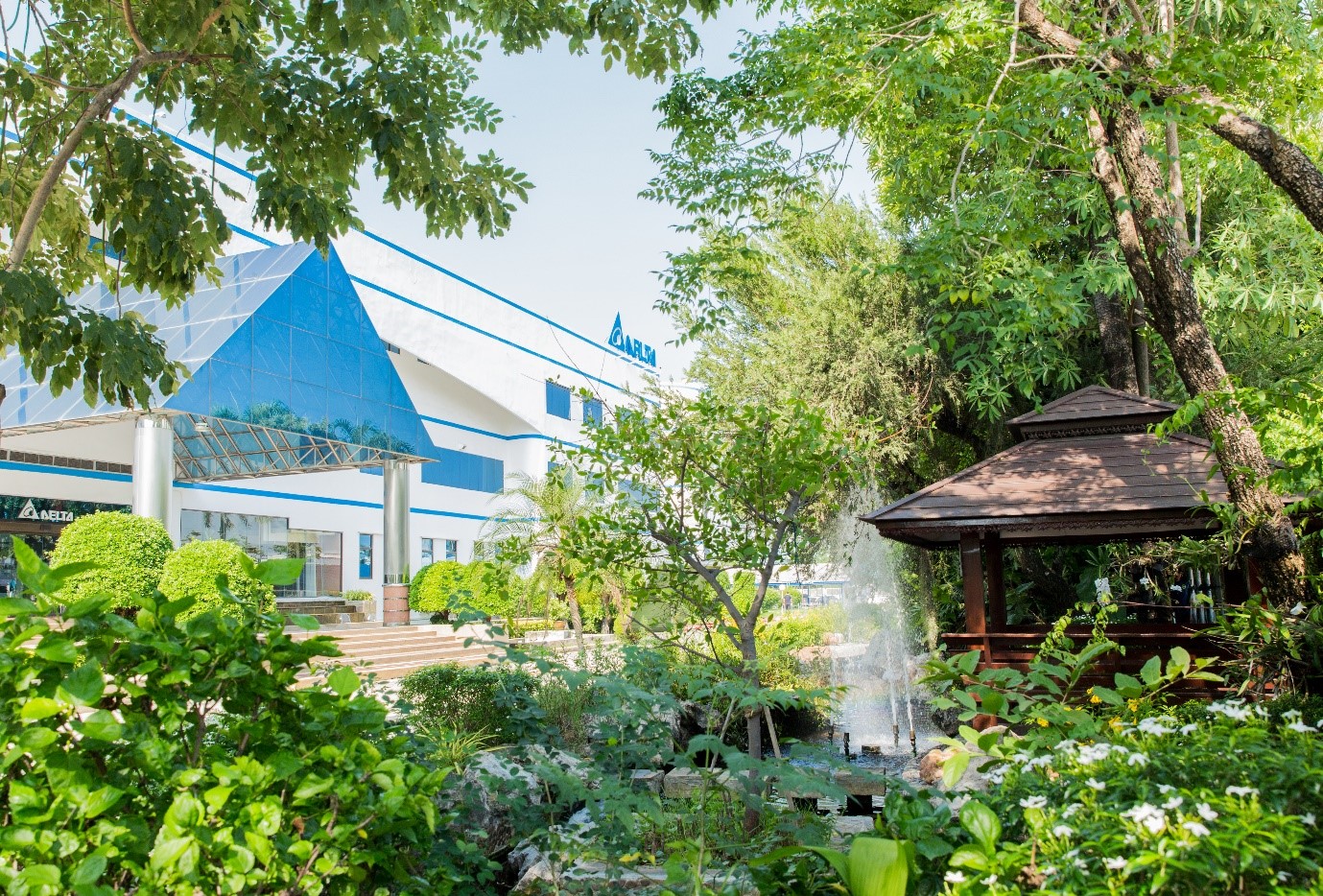 Finding more efficient ways to manage energy use comes naturally to Delta as a company with core competencies in power and thermal management. Every day our mission statement, "To provide innovative, clean and energy-efficient solutions for a better tomorrow," motivates everyone to push the boundaries in their fields of expertise.
This mission and the spirit of continuous improvement drives everyone at Delta to do their part to make the best use of our earth's precious resources. Meanwhile, the Delta Energy Management Team helps to lead ongoing renovation and optimization of our green Thailand headquarters.
Please join us in the next part of our green building study to see how Delta leveraged resource management and environmental conservation to create a model of sustainability for Thailand and Southeast Asia.