Building managers in Southeast Asia often look to resolve the challenges of reducing the heat output and carbon footprint while maintaining a comfortable indoor environment in residential structures such as apartment buildings, hotels and senior living facilities as well as medium to large industrial and office buildings like factories and hospitals. To reach these goals, building managers can leverage Delta's automated and energy-efficient HVAC solutions.
As global warming emerges as a major consideration in the building automation industry, building managers can easily boost energy savings and cut costs with Delta's HVAC solution consisting of:
• Fan/Pump Vector Control Drive CP2000 Series
• Compact Drive MS300 and ME300 Series
• Multifunction Power Meter DPM Series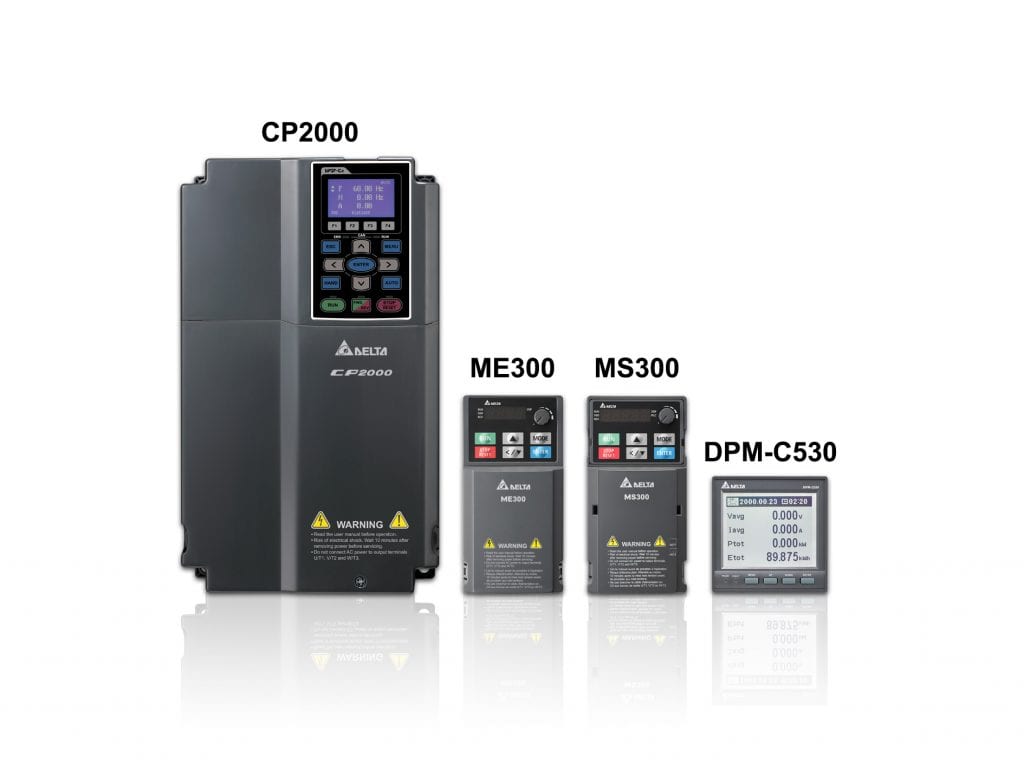 • Delta's Fan/Pump Vector Control Drive CP2000 Series is an advanced, versatile and energy-saving sensor-less vector control drive for fan and pump applications. It's designed to simplify building networks and save time and money during installation.
Available in 230, 480, 600, 690VAC inputs and power ratings from 1HP to 840 HP, the CP2000 is perfect for fans, pumps and HVAC applications. It supports multi-pumps control of up to 8 motors, and features PID control, sleep/wake up functions, flying start and frequency-hopping functions.
For connectivity, the CP2000 features built-in Modbus and BACnet that integrates with Delta's control technologies, such as the Delta Controls eZVFD, an entiliZONE VFD controller module. This pairing reduces hardware and wiring, while enabling remote commissioning, adding onboard intelligence, and allowing for off-site drive configuration.
• The Compact Drive MS300 (Standard type) and ME300 (Basic type) Series are Delta's latest AC motor drives, featuring max. power range of 22kW/30hp and 7.5kW/10hp. The MS300 series has integrated PLC functions (2k steps) for simple programming needs and a built-in communication slot for various communication cards.
The ME300 series built-in multi-pump function can control up to 4 pumps at one time. Both MS300 & ME300 supports IM and PM motors. It's extremely compact, up to 40~60% smaller than Delta's other models. The front panel of the smallest model is almost the same size as a smart phone to save installation space.
• The Multifunction Power Meter DPM Series provides precise measurement and monitoring for energy usage and quality in parameter groupings. It uploads this data to host controllers and a management platform via RS-485 or Modbus. The DPM Series allows fast data transmission and short reading time by PLCs to enhance system efficiency.
Air Conditioning is a key to enhance occupant comfort within a building. However, it also generates a lot of heat which increases the outdoor temperature. Delta's HVAC solution is designed to detect temperature and humidity changes, time scheduling and conduct operational controls. By using outdoor fresh air for ventilation, it provides thermal comfort and acceptable indoor air quality to ensure the building sustains a healthy indoor environment.

Delta's innovative building automation technology and global service support provides customers with highly efficient and comfortable green buildings and allows managers optimal operation efficiency to improve energy management while reducing the building's environmental impact.