Bangkok, Thailand, August 20, 2019- We saw in an earlier article how Indoor Air Quality solutions protect your family from the toxic smog outside and get rid of pollutants inside your home that can make you sick. Now the next question for Thailand's homeowners, building managers or property developers who want the best indoor environment is: How do I choose the right solution to guarantee safe and comfortable indoor air for the home, office, classroom or hospital ward? Delta's top three priorities for this are: Health, Comfort and Savings.
Clean Airflow for Healthy Living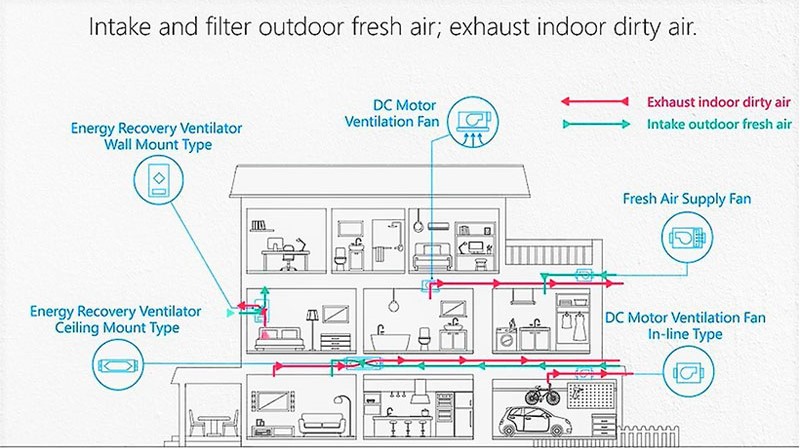 For good ventilation we must make sure we have clean airflow inside our entire building. We all love that refreshing feeling we get when oxygen-rich fresh air rushes inside and hot stuffy air leaves. But if we open our bedroom windows in the city, then unhealthy PM2.5 and dangerous pollution can flood in and if we shut up our meeting rooms then pollutants get trapped inside and soaring CO2 levels can put your boss to sleep mid-presentation. Not good! We need a ventilation solution.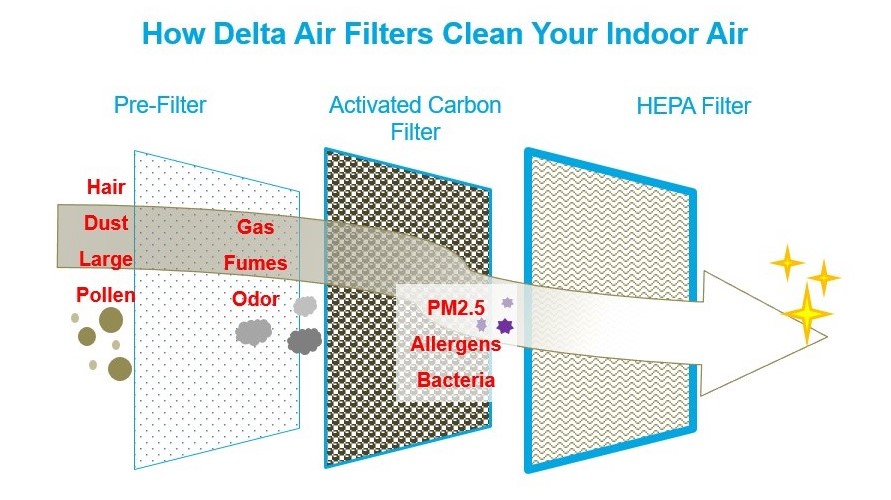 Delta's indoor air quality solutions use different types of filters to protect you. The Energy Recovery Ventilation (ERV) solution has three filter types: The Pre-Filter is the first line of defense that blocks large particles like dust. The Activated Carbon Filter helps to absorb harmful gases and reduce smells. The High-Efficiency Particulate Air (HEPA) Filter uses interception, impact and diffusion methods to filter out PM2.5 at a rate of 97%.
Controlling Humidity for Health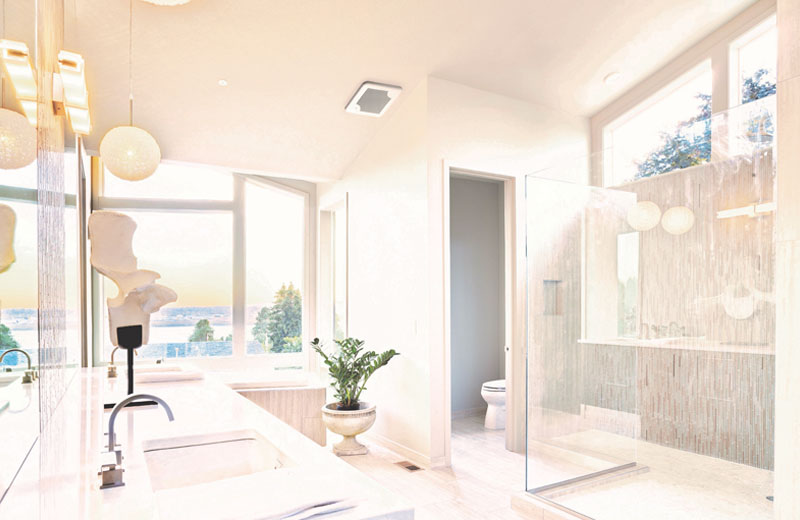 The high humidity and moisture in Thailand creates the perfect breeding ground for biological contaminants such as molds, bacteria and pollen. This exacerbates health problems and can make your rooms depressing spaces for any human. Without proper ventilation in bathrooms and other high humidity sources, your dream home can rapidly deteriorate into an unhealthy and embarrassing showcase of mildew, rotting furniture and chipping paint.
Bathroom fixtures are a common source of high humidity so you need to get your bathroom ventilation sorted out quickly. You can choose from Delta's range of high-quality and high-efficiency bathroom fans to clear bathroom steam and control moisture from spreading to other rooms when you get out of the shower. Some Delta ventilation fans also feature humidity sensing that changes the fan's speed according to humidity levels and keep the house dry.
Innovative and Silent Comfort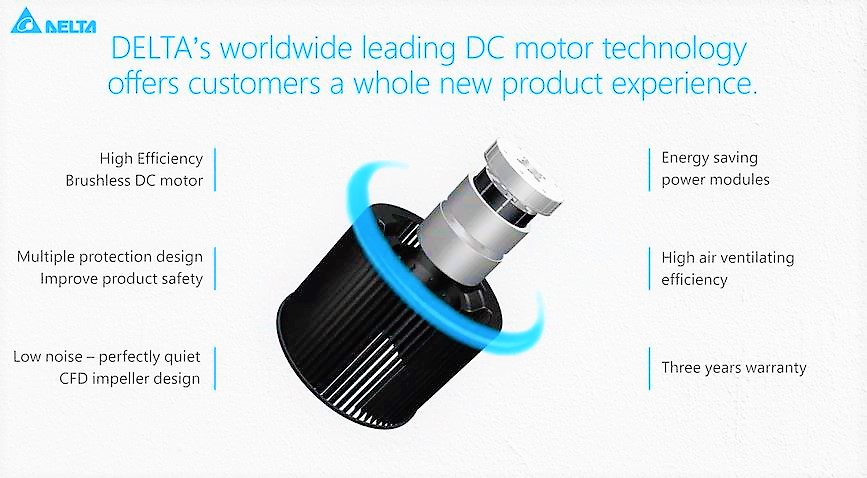 Delta DC Motor Fans
A lot of people feel fans should be seen and not heard. That's why Delta fans use low noise impellers instead of blades so you won't hear that annoying whirring. Our fans also have a scroll design which takes a lot less movement (and noise!) to move a lot more air. In addition, the fan's soft-start control means you won't wake up your family every time you go to the bathroom at night.
And unlike traditional ventilators, Delta's ERV uses a special heat-exchanger core to pre-cool the filtered air coming in and keep cool air from escaping. Users in tropical countries like Thailand will appreciate this innovative technology's ability to reduce incoming air temperature by up to 6°C and humidity by up to 16%.
Energy Savings for Our Planet and Your Bills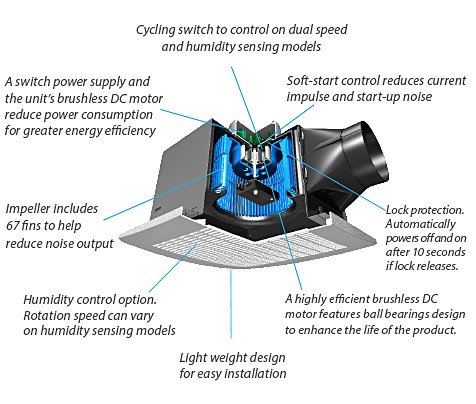 Delta DC Motor Technology
The main way Delta outperforms other global brands is with its leading brushless Direct Current (DC) motor fans. These are more durable, lightweight, quiet and energy-efficient than Alternating Current (AC) that power other popular products. Using a ventilation solution from the world-leading Brushless DC Fan Manufacturer, means your fans last up to 70% longer and save up to 74% more power compared with many popular AC motor models.
Delta brushless DC motor fans are among the most efficient ventilation fans available and are ENERGY STAR qualified. Some Delta fans even have a motion-sensing function that adjusts according to your indoor activity. The fan detects when you come into a room and powers up to full speed and then automatically goes down to low speed or switches off when you leave.
In Thailand, air-conditioning or chilling systems typically account for 50-60% of the total amount of building energy use. And while Delta's Indoor Air Quality solution is not supposed to replace your air conditioning, the pre-cooling and humidity reduction features of the ERV can help you save up to 30% of energy usage for air conditioning.
Health, Comfort and Savings for YOU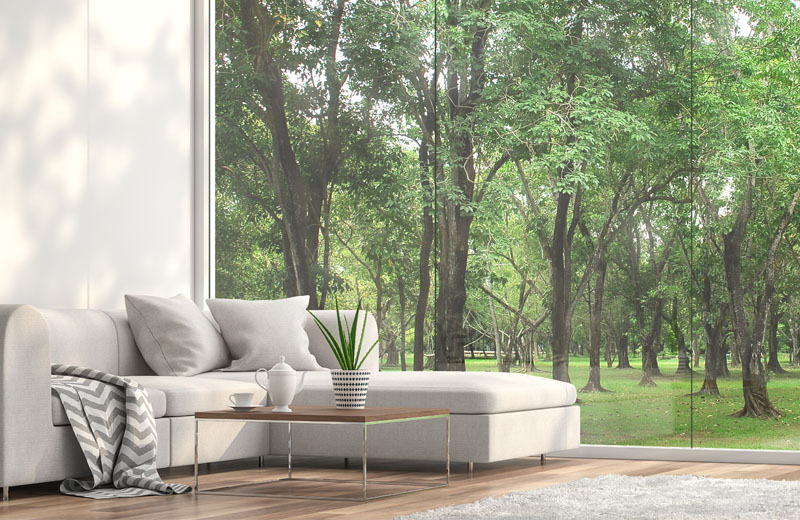 So if you're serious about choosing the best solution to guarantee health, comfort and savings for your family, employees and customers you can call your perfect indoor air quality solutions partner-Delta. Delta's Thai experts are ready to help you find the right indoor air quality solution or DC ventilation fan with the size, airflow level and feature specifications that match your budget and lifestyle.
Please contact our experts and see how we can enrich your life with indoor air quality solutions that guarantee Health, Comfort and Savings for YOU.
Watch Videos for More Details
Delta Ventilation Fans Overview
Delta Indoor Air Quality Solution
How To Install a Delta Bathroom Fan